Southwest Airlines on 27 July reported a second-quarter profit of $683 million based on "continued strong demand" from leisure travellers, but has struggled to attract business travellers during its recovery.
The Dallas-based carrier's "all-time quarterly record" revenue of $7 billion was up 4.6% from $6.7 billion during the three months ending in June 2022.
However, profits were down 10% compared with last year, when the Dallas-based carrier made $760 million in the second quarter.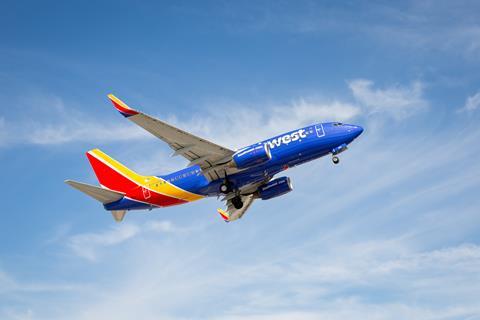 The carrier's expenses were $6.2 billion in the second quarter, up 12% from $5.6 billion during the same period last year.
Southwest reports incurring higher-than-usual maintenance costs due to its older 737-800s coming due for heavy engine maintenance.
Speaking during an earnings call, Southwest chief executive Bob Jordan says the carrier's network is "largely restored at this point" but is "not optimised", especially for current trends in business travel.
The pre-pandemic pattern of business travellers taking frequent short-haul flights and travelling midweek has not returned, adds Ryan Green, Southwest's chief commercial officer.
"Travellers from some of our largest segments have reduced the frequency of their business trips from pre-pandemic levels," he says."It gives us an opportunity to look at our network design. There is a revenue opportunity to adjust the network to adapt to the new patterns we expect to continue to see from our mix of business and leisure customers."
Southwest says it is is revamping its 2024 flight schedule "to reflect post-pandemic changes to customer travel patterns", and to "align our network, fleet plans and staffing to better reflect the current business environment".
"We have made changes reflecting where our customers are travelling and when they are travelling, including time-of-day and time-of-week," Green says. "This optimisation will be largely complete in spring 2024."
Southwest estimates that optimising its network will provide "$500 million in incremental year-over-year pre-tax profits in 2024".
The airline flew some 36 million passengers in the second quarter, up 7.5% over the same period of 2022. Capacity as measured by available seat miles was up 14% year on year.
Southwest anticipates riding the surge of leisure travel into the year's second half, Jordan says: "Based on our current outlook, we continue to expect record operating revenue and solid profits in [the] third quarter [of] 2023."
The airline says it still expects to take delivery of 70 737 Max aircraft in 2023. With the anticipated retirements of 26 737-800s by the end of the year, adding 70 jets would bring Southwest's fleet to 814 aircraft.