Spirit Airlines has once again complained to the Department of Transportation (DOT) that the "Northeast Alliance" (NEA) between JetBlue Airways and American Airlines is undermining competition.
In a 137-page filing to the DOT dated 12 May, the Miramar, Florida-headquartered carrier says that due to their dominance in the busy northeastern hubs Boston, New York and Washington DC's Reagan National airport, the two partners can now "raise prices, limit true competition and block new entry" to those crucial markets.
In addition, Spirit contends that American's collaboration with Seattle-based Alaska Airlines gives it additional weight and anti-competition tendencies in many markets across the airlines' networks.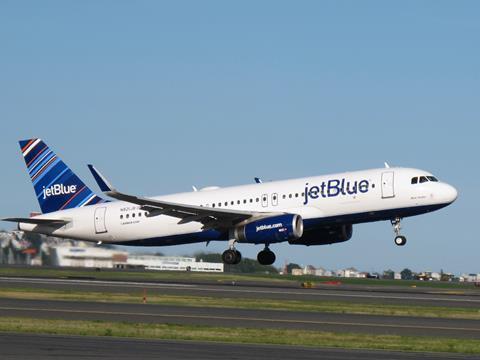 "Encouraged by the previous administration's unjustified sign off on the NEA, American – together with the fifth and sixth largest airlines, Alaska and JetBlue – now seems emboldened to further erode competition in an already highly consolidated air travel industry," the filing reads.
"Significantly, American-JetBlue codeshares overlap at a near 100% rate with airports covered by American-Alaska codeshares. And, flights combining routes across these now intertwined strategic partnership networks are already being sold by American - directly undermining the congressionally-imposed pro-competitive policy the Secretary by law is required to consider."
In addition, Spirit says American and JetBlue are hoarding slots at traffic-restricted airports in Boston and New York, allowing "tacit coordination outside NEA markets".
Spirit cites the airlines' dominance in Latin America, which it has already protested in a DOT filing on 1 April.
In mid-March, New York-headquartered JetBlue had applied to shift a daily seasonal Fort Lauderdale-Quito, Ecuador route to originate at New York's John F Kennedy International airport. That gave JetBlue two daily flights between those two cities. Shortly prior to that, American had filed an application to move all its US-to-Ecuador flights to originate in Miami. American now has departures to Quito and Guayaquil from Dallas and Miami, Spirit said at the time.
"While JetBlue dismissed these concerns as much ado about nothing – entirely independent and coincidental action – collusion is rarely overt, so there is no reason why the carriers would explicitly coordinate these non-NEA-Airport route changes," Spirit writes on 12 May.
The American-JetBlue alliance has stirred controversy since it was announced last year. Spirit and Southwest Airlines have repeatedly complained to the DOT about competitive concerns and also have often alleged that the airlines may be collaborating beyond the scope of the approved agreement.
This latest volley comes three weeks after JetBlue and American announced a further expansion of the alliance, parts of which Spirit quotes in its complaint.
"The two carriers have already announced codeshares for 96 city-pairs and are projecting to reach 190. Out of the 26 overlapping American-JetBlue markets Spirit highlighted in its complaint, 17 of these markets have already lost competition due to the NEA, with more to follow," the airline says.
"Coupled with the over 277 American-Alaska codeshares recently marketed, the NEA is enabling the dramatic loss of competition at airports coast-to-coast, which needs to deeply concern the Department."