For the third day in a row, Spirit Airlines has cancelled hundreds of flights due to what it calls "operational challenges".
As of 10:45 US Pacific time on 3 August, the Miramar, Florida-headquartered ultra low-cost carrier had cancelled 343 flights – half its scheduled flying for the day, according to flight tracking website FlightAware.com. The number has been rising hourly.
Another 83 flights – about 12% of Spirit's schedule – are delayed, FlightAware shows.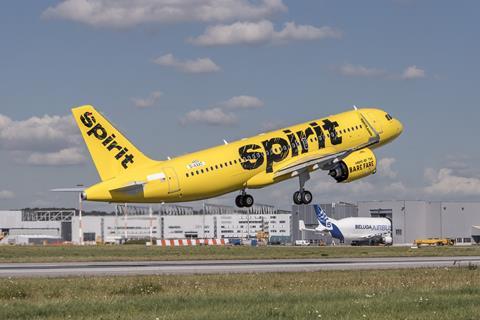 On 2 August, the airline had cancelled 334 flights (42% of its schedule) with another 235 flights (29%) being delayed, FlightAware said. The day before, 165 of Spirit's flights (19% of the total) were cancelled, and 341 flights (40%) were delayed, according to the company's tracking data.
"We're working around the clock to mitigate the travel disruptions caused by overlapping operational challenges including weather, system outages and staffing shortages in some areas of the operation," the carrier says. "In responding to these challenges, Spirit has implemented some proactive cancellations again today to reset our operations."
Reports in some media that pilots had gone on strike are untrue, says pilot union Air Line Pilots Association, International (ALPA) on 3 August.
"Spirit Airlines has recently been experiencing a series of operational struggles. These issues are not due to a pilot strike. Any such rumour or report is completely false," ALPA says.
"Spirit's pilots are working diligently with other employee groups to safely and professionally return to full operations as soon as possible."
Leisure-travel demand has skyrocketed in past weeks owing to US customers' pent-up desire for air travel following a coronavirus-driven break. Cost-conscious passengers looking for no-frills flights have flocked to Spirit and low-cost peers Allegiant Air and Frontier Airlines during the peak summer holiday travel season.
STAFFING + WEATHER = CHAOS
Other US carriers including Delta Air Lines and American Airlines were also caught flat-footed this summer as customers returned faster than they could provide crew for aircraft. Bad weather contributed to significant disruptions to their schedules.
FlightAware shows that on 3 August, 288 of American's flights (9% of its schedule) were cancelled, and 414 (14%) were delayed.
"A prolonged severe weather event in Dallas Fort-Worth on Sunday night into Monday morning brought sustained heavy rain, strong winds, lightning, microbursts and hail to our largest hub," American says. "The nine-hour weather event resulted in flight delays, cancellations and nearly 100 diversions."
A staff shortage coupled with inclement weather can quickly throw an entire network off its schedule, as aircraft and crews are diverted and repositioned. In addition, mandatory crew rest periods must be respected.
Meantime, incensed passengers continue to complain on social media, posting images and videos of crowded terminals and staff-less check-in counters. Some guests say they are stranded in airports, waiting to be rescheduled on flights that were supposed to leave last weekend.
The Transportation Security Administration (TSA), which is responsible for security screenings at 450 airports across the USA, says that last Sunday, 1 August, was the busiest at US airports since the beginning of the global health crisis 18 months ago. On that day, TSA screened 2.24 million customers, or about 83% of the number it screened on the same day in pre-Covid 2019.
The agency says more than 2 million passengers have passed through its checkpoints on 19 of the past 30 days. During the same period in pandemic-plagued 2020, the daily passenger count hovered between 500,000 and 800,000.