Spirit Airlines executives say they learned much from the airline's operational woes last summer, and that they will add staff and cut routes to prevent recurrences.
During an 11-day stretch in August, the Miramar, Florida-headquartered ultra-low-cost airline cancelled nearly 3,000 flights because of inclement weather and other factors, creating an operational meltdown that threw its schedule into disarray.
On the worst of those days, Spirit cancelled half its scheduled flights. Hundreds more left late and thousands of passengers were left stranded. The disruption cost the carrier about $50 million.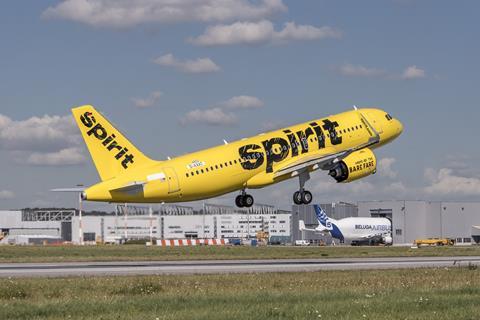 "We are not pleased with our operational performance in this instance, but we have a proven record of reliable operations," chief executive Ted Christie says on the company's quarterly webcast on 28 October. "It was a tremendous stress on our resources."
Spirit blamed the issues on "weather, system outages and staffing shortages that caused widespread irregularities in our operation and impacted crew scheduling".
Leisure-travel demand skyrocketed during summer, rebounding from pandemic lows unexpectedly quickly and taking airline managers by surprise. Cost-conscious passengers looking for no-frills flights flocked to Spirit and low-cost peers Allegiant Air and Frontier Airlines.
In the near term, the airline will focus on increasing staffing to support growth plans. "And we will be making network moves that position us for the post-pandemic environment," Christie says, adding that Spirit remains a high-growth carrier.
The past 18 months have had "broad and wide-ranging impacts" across the industry, he says. "We are actively learning from that."
STAFFING ISSUES
Executives say Spirit's home base of Fort Lauderdale will be a "good deal smaller… than we'd like to be" in the coming months due to the staffing issues.
"We would like to get back to full utilisation of Fort Lauderdale as soon as possible," Christie says. But that won't likely be until the end of 2022. "As people begin to feel more normal about their lives, the labour market will become more normal too."
The airline is considering opening new crew bases, but executives do not say where.
Spirit reported a $15 million profit for the third quarter – buoyed by government financial aid.
Christie says management is "encouraged by the search trends" for the end-of-year holiday period and that loads will be "quite healthy".