Spirit Airlines expects to resume normal operations by the middle of next week after the airline was forced to cancel thousands of flights in the past six days due to staffing and weather issues.
The Miramar, Florida-based carrier says on 6 August that its plan to recover from the disruptions that have left tens of thousands of passengers stranded in airports across the country, is working.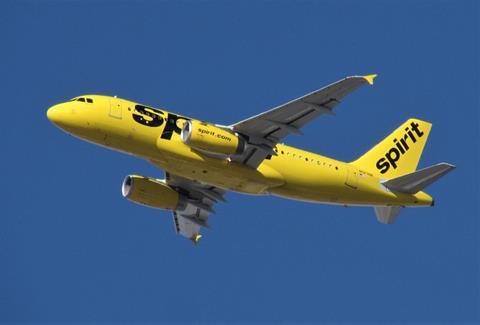 "This week's cancellations stem from a month's worth of tough operating conditions in July," the airline says. "What started with weather and its associated delays led to more and more crew members getting dislocated and being unable to fly their assigned trips. Ultimately, the number of crews facing those issues outpaced our crew scheduling department's capacity for getting them back in place."
For each of the past six days, the airline has been forced to cancel more than half of its schedule, with hundreds more flights delayed.
By Friday at 12:20 Pacific Time, the airline had cancelled 334 flights, or 43% of its total flights for the day, according to flight tracking website FlightAware.com. Another 82 flights, or 10%, are shown as having been delayed.
On Thursday, 450 flights, or 56% of the airline's scheduled departures were cancelled, with 120 flights, or 15% delayed.
On 3 August, flight attendant union Association of Flight Attendants-CWA, which represents 4,500 cabin crew at the carrier, said it was working closely with airline management to solve the issues for that work group, adding that IT outages had left schedulers temporarily unable to access the crew scheduling system, further aggravating staffing problems.
Meantime, passengers whose flights were affected continue to complain on social media, and post images of crowded terminals and staff-less check-in counters.
"Our primary objective right now is taking care of our guests and team members and getting our operation back to where we want it to be," chief executive Ted Christie says. "To our guests, I am truly sorry. We've spent years investing in the reliable, on-time experience you've come to expect with Spirit, and this week we fell short. We're going to do everything we can to earn back your loyalty."