Spirit Airlines will open two new pilot and flight attendant bases in Miami and Atlanta this year, as it adds aircraft and routes.
The Miramar, Florida-based carrier says on 3 March that it anticipates posting 100 pilots and more than 200 flight attendants at each, with additional crew and support staff to follow.
They will be the eighth and ninth bases for the ultra-low-cost carrier.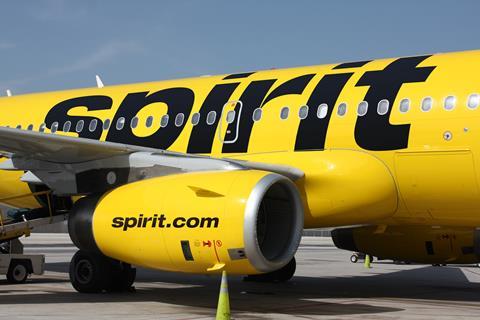 "We're always evaluating our network to find opportunities to improve our operational performance as our flight options continue to expand," says John Bendoraitis, Spirit's chief operating officer.
Currently, Spirit's primary Florida base is at Fort Lauderdale's Hollywood International airport, just 29 miles (46km) north of Miami. Spirit began flying from Miami International airport in October 2021, and now boasts nonstop flights on 30 routes from the city, making it the second-largest carrier at the airport after American Airlines.
In Atlanta, Spirit is the third-largest carrier, with flights to 19 destinations.
Spirit's expansion comes days after Frontier, which plans to acquire Spirit later this year in a $6.6 billion deal, announced it was opening a new crew base in Phoenix.
Together, the airlines will offer 1,000 daily flights to more than 145 destinations in 19 countries, they said on 7 February. According to Cirium fleets data, the two carriers currently have 284 aircraft in their combined fleet, and 388 more on order.
The transaction is subject to shareholder approval and regulatory review, and is expected to close in the second half of the year.