An association representing UK airlines does not share the downbeat winter season outlook released by Heathrow airport this week, accusing the London hub of seeking to "drive up passenger charges".
Outlining its demand expectations for the rest of the year on 25 April, Heathrow described the return of UK outbound leisure passengers this summer as a "temporary increase", as people take advantage of the country's removal of travel restrictions while redeeming airline vouchers accrued during the pandemic.
But while the airport has increased its 2022 passenger traffic forecast from 45.5 million to 52.8 million – representing 65% of pre-pandemic levels – it notes that demand "remains very volatile" and is likely to "drop off significantly" after the summer season.
Airlines UK – which represents carriers including British Airways and Virgin Atlantic – does not agree with that outlook.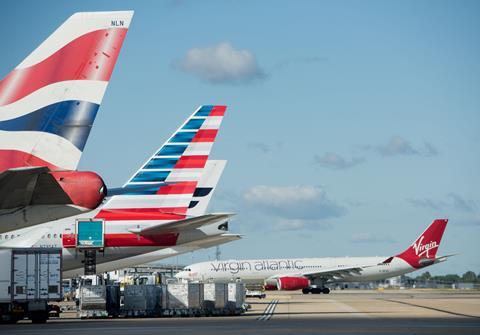 "Heathrow is – alone within the sector – seeking to downgrade the pace of recovery within aviation, to drive up passenger charges to support shareholder returns," it claims.
But Heathrow insists that it is "already seeing airlines cancelling services into the autumn and the realities of higher fuel costs, lower GDP growth, the war in Ukraine and the ongoing pandemic will drag on demand".
The airport also suggests that "another [Covid-19] variant of concern" could see the return of travel restrictions.
Within that context, the airport goes on to criticise the UK Civil Aviation Authority's proposals to cap Heathrow's airport charges per passenger for the next five years at between £24.50 ($31.07) and £34.40, an increase from £22 per passenger in 2020. Heathrow had requested the charges increased to between £32 and £43.
Heathrow claims that the charges proposed by the CAA "will see passengers faced with longer queues and more frequent delays, as well as threatening Heathrow's ability to fund itself affordably".
Airlines UK, however, sees things differently. "No other airport is claiming to need to hike passenger charges by between 50-100% – in the middle of a cost of living crisis – to maintain a basic level of investment and service," it says.
"The CAA should use the real evidence of recovery alongside independent demand forecasts so that consumers can be put at the heart of any decision on Heathrow's charges."
Heathrow says it will remain in the red in 2022, as its Covid-19 losses top £4 billion.
Among forecasts for the coming months, Eurocontrol has predicted that there will be some moderation in the recovery of flight numbers over the second half of 2022 in the Europe region, but that recent improvements are unlikely to be reversed under its base-case scenario. It warns, however, of downside risks.
Airports usually experience a degree of seasonality in demand trends, often making winter-season passenger throughput lower than that seen during the summer period.