Airlines have seen a jump in UK ticket sales in the hours after the government published information on the national plan for exiting lockdown.
UK prime minister Boris Johnson said on 22 February that the government would report on how to restart international travel on 12 April, with a view to relaxing travel restrictions after 17 May.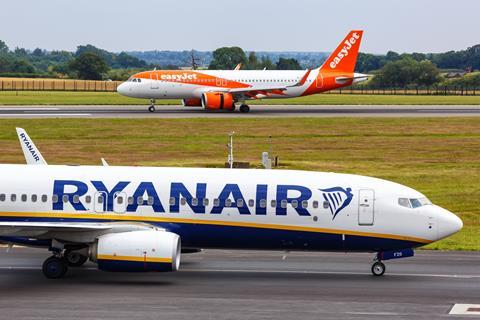 EasyJet says that in the hours following the announcement UK flight sales increased by 337%, "with leisure trips to Malaga, Alicante, Palma, Faro and Crete among the top destinations and August proving the most popular time for travel".
Chief executive Johan Lundgren states: "We have consistently seen that there is pent-up demand for travel, and this surge in bookings shows that this signal from the government that it plans to reopen travel has been what UK consumers have been waiting for."
The jump in ticket sales backs up the carrier's expectations of strong pent-up demand, it says, citing research from January showing that 65% of European consumers planned to book a flight for summer 2021.
Ryanair, likewise, tells Cirium it experienced a "large surge" in sales following the UK government's announcement.
"This is an encouraging trend and shows the importance of providing customer confidence," says the Irish carrier, adding: "We remind our customers that any bookings made before 31 March can be moved twice until the end of October 2021."
For holiday operator TUI, bookings rose by 500%, with the most in-demand destination countries being Greece, Spain and Turkey.
"The announcement from the prime minister on 22 February was positive and shows that by working with the travel industry on a risk-based framework our customers will have the opportunity to travel abroad this summer," states Andrew Flintham, managing director of TUI UK and Ireland.
Holiday operator Thomas Cook says traffic to its website jumped 75% on 22 February, mostly after the prime minister's announcement.
Sales were "flooding in", it says, "and not just for summer; people [are] booking holidays well into 2022 – [it] felt like the cork popping on all that pent-up demand".
In addition to European destinations, bookings have risen for long-haul holidays in the Dominican Republic and Mexico, notes Thomas Cook.