The UK's competition regulator has largely backed the position of the Civil Aviation Authority (CAA) in its initial ruling on appeals by airlines and Heathrow Airport into pricing controls set at the London hub through to 2026.
Airlines and the airport have been a loggerheads with each other, and the CAA, throughout the process. Heathrow Airport argued higher price controls were necessary to give it sufficient revenue for the required investment in the facility, while the airlines – British Airways, Virgin Atlantic and Delta Air Lines – pressed for lower charges arguing the airport operator was too pessimistic in its traffic forecasts.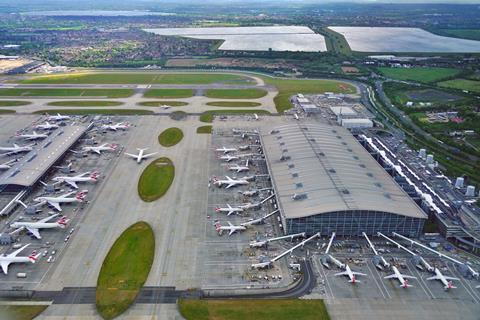 In March, the CAA essentially split the difference in deciding charges for 2023 would be fixed at the £31.57 ($37.37) per passenger interim cap but that the average maximum price per passenger would then fall by about 20% to £25.43 in 2024 and remain "broadly flat at that level" until the end of 2026. It argued charges "should benefit passengers in terms of lower costs, while also allowing Heathrow Airport to continue investing in the airport for the benefit of consumers".
Both Heathrow Airport and the airlines appealed the ruling to the UK's Competition & Markets Authority (CMA). "Overall we provisionally consider that the CAA was not wrong in most of the decisions that were appealed to us," it says in a provisional decision, stressing its role is not to "revisit" the original arguments but to consider if there were any errors of fact in the process.
"Where we have provisionally found that the CAA has made errors, we have provisionally decided to require the CAA to reconsider them," it says. These relate to relatively small elements supporting airline arguments around the cost of debt and passenger forecast calculations, as well as Heathrow Airport's appeal over an adjustment made for "over-recovered revenues" in 2020 and 2021.
"While it is not possible now to quantify any changes in the price cap that could result from CAA reconsideration of these aspects, we would expect any such changes to have only a small net impact relative to the CAA's overall price control decision, particularly as they may work in opposite directions."
The CMA will issue a final decision on whether to allow or dismiss the appeals by 17 October.
CAA chief economist Andrew Walker welcomed the provisional determination. "While it has determined there are a small number of issues that we should review again, these are not expected to have a significant impact on the level of Heathrow's price control," he says. "We will now review the findings before responding in due course.
Virgin Atlantic says: "It's disappointing that the CMA has largely endorsed the CAA's decision, which did not go far enough to protect consumers from excessive charges at Heathrow. The airport has prioritised shareholders over consumers, relying on pessimistic passenger forecasts to support its agenda, in stark contrast to the actual number of passengers flying from Heathrow which is close to pre-pandemic levels."
Heathrow airport, which saw annual passenger numbers plummet to under 20 million across 2021 at the height of the pandemic, handled 7.66 million passengers in July, compared with 7.75 million in July 2019.
Virgin Atlantic adds: "Under the incoming CEO, Heathrow must now put customers first, working collaboratively with airlines to get back to its best so it can deliver a world-class experience commensurate with being the world's most expensive airport."
In June Heathrow Airport named Copenhagen airport head Thomas Woldbye as its new chief executive, succeeding John Holland-Kaye who is stepping down this year after nearly a decade in the role.