The UK government has named Israel, Portugal and Gibraltar among the 12 countries and territories on its 'green list' of destinations for the resumption of non-essential international travel on 17 May.
"We want a summer in which… we can travel to places we love," says UK transport secretary Grant Shapps during a briefing today. "We want to start looking outward again."
The categorisation of countries – the framework for which was announced on 9 April – is based on factors including the percentage of the population that has been vaccinated; the rate of Covid-19 infections; the prevalence of variants of concern; and access to scientific data and genomic sequencing.
Two Portuguese islands, Australia, New Zealand, Singapore, Brunei, Iceland, the Faroe Islands and the Falkland Islands are also on the 'green' list.
Many of those destinations will not be an option for outbound travellers from the UK because they do not accept non-essential travellers at this time.
The vast majority of destinations – including popular outbound tourism destinations from the UK such as France, Spain and Greece – have been placed into the 'amber' category, where travellers are still required to quarantine for 10 days on arrival in the UK, with the option for "test to release" on day five.
The USA – a crucial market for carriers such as British Airways and Virgin Atlantic – is also on the UK's 'amber' list.
The framework states that even where the lightest restrictions are in place for 'green' countries, passengers will be required to pay for at least two Covid-19 tests – one before departing countries and another once they are back in England – before the requirements of the countries being visited are taken into account.
Shapps says that people should not choose to travel to 'amber' or 'red' countries, describing the framework as "necessarily cautious" amid a desire to protect the relative success of the UK's vaccination programme from the importation of Covid-19 cases and new variants.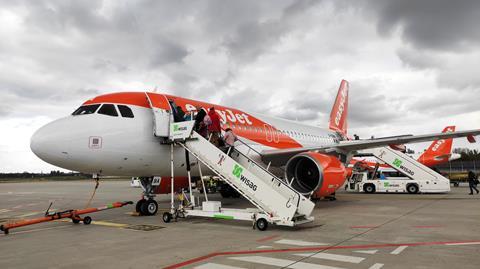 For 'red' countries, there is a mandatory 10-day hotel quarantine on arrival. Turkey, Nepal, and the Maldives are among the countries newly added to that category today.
Combined with its release of a framework for the resumption of cross-border air travel, the UK's relatively advanced vaccination programme and low Covid-19 rates make it a bellwether for the wider reopening of international travel in Europe.
While the country drew some praise – notably from IATA – when it announced the framework, several UK airlines complained that the expense and inconvenience of Covid-19 testing for 'green' countries would weigh on passenger demand.
The government will review its traffic-light list every three weeks and is due to review the details of the travel restrictions on 29 June.