The UK government's announcement of a framework to reopen international air travel to and from England has immediately prompted Jet2 to extend its suspension of flights until 23 June, amid what it calls a "frustrating" lack of clarity.
Jet2 cites "uncertainty" following the release of the Global Travel Taskforce's framework on 9 April, which recommends a "traffic light system" in order to "categorise countries based on risk alongside the restrictions required for travel".
UK transport secretary Grant Shapps said today that the government would not reveal how individual countries had been categorised under the framework for "two or three weeks", before international travel could resume from 17 May at the earliest.
The lesiure carrier states: "It has been over a year since international travel was suspended because of the pandemic. Much has been achieved in that time, making it even more frustrating that we are still to receive a clear framework on how to restart international travel."
The framework states that even where the lightest restrictions are in place, passengers will be required to pay for at least two Covid-19 tests – one before departing "green" countries and another once they are back in England – before the requirements of the countries being visited are taken into account.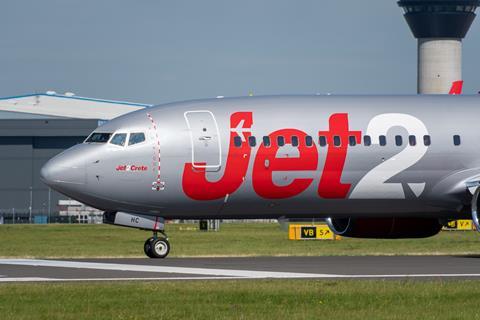 Several countries in Europe have suggested they might accept some international travellers with no testing or vaccination certification requirements, which had raised UK airline hopes that the forthcoming summer season could see travel happening with light-touch restrictions in place.
Shapps explains, however, that the government's "cautious" approach to reopening international travel markets stems from concerns about the importation of Covid-19 cases, which he says could undermine the country's relatively advanced vaccination programme.
And despite the transport secretary becoming the first government minister this year to suggest that people could now go ahead and book overseas air travel, Jet2 was not alone in expressing its disappointment with the framework.
Tim Alderslade, chief executive of industry body Airlines UK, which represents carriers including British Airways, EasyJet and Virgin Atlantic, says: "This does not represent a reopening of travel as promised by ministers, and the insistence on expensive and unnecessary PCR testing rather than rapid testing – even for low-risk countries – will pose an unsustainable burden on passengers, making travel unviable and unaffordable for many people."
Aldersdale describes the report as a "further setback for an industry on its knees and the UK's wider economic recovery, with many businesses and exporters reliant upon our domestic and international connectivity and a thriving aviation sector".
In the lead-up to the UK government announcement, BA and Virgin Atlantic had stressed the importance to the UK economy of opening up international markets as soon as possible, while asking for requirements such as Covid-19 testing to be kept to a minimum.
But in the framework announced today, the UK government notes that its main consideration is "to protect the public and the vaccine rollout from international Covid-19 variants".
The categorisation of countries will be based on factors including the percentage of the population that has been vaccinated; the rate of Covid-19 infections; the prevalence of variants of concern; and access to scientific data and genomic sequencing.
"The risks posed by these variants remain significant, and restrictions for inbound passengers, such as 10-day managed quarantine, home quarantine, and stringent testing will remain in place – but will apply to people differently depending on whether the destination visited is categorised as 'green', 'amber' or 'red'," the government states.
For "green" countries – where restrictions will be lightest – arrivals in England will be required to take a pre-departure test as well as a PCR test on or before day two of their return to the country.
"Restrictions will be formally reviewed on 28 June 2021 to take account of the domestic and international health picture, and to see whether current measures could be rolled back," the government states. "Further formal reviews will take place at checkpoints no later than 31 July and 1 October 2021."
Also speaking on 9 April, Nick Thomas-Symonds, a spokesperson for the UK opposition Labour Party, told the BBC: "The government has spoken about factors like vaccination rates, infection rates, the position with variants and also about the level of genomic sequencing. But I've no idea what the levels of each of those are for the government to place countries into, whether it's the green category, amber or red."
The framework covers flights to and from England, with decisions regarding the UK's other territories being the responsibility of devolved assemblies.
The UK's action in setting up the travel-restart taskforce had drawn praise from airline industry body IATA, which suggested other countries should be introducing similar initiatives to plan for the reopening of international markets.
Speaking during his first briefing as IATA director general on 7 April, Willie Walsh acknowledged the short-term need for Covid-19 testing and vaccination requirements to facilitate international travel, but insisted such measures should only be in place until the health crisis is under control.