The tensions on Ukraine's border with Russia are unlikely to have a significant impact on international airline services, according to IATA, given that most commercial operators have avoided overflying the affected airspace for some time.
Speaking during a media briefing on 25 January, IATA director general Willie Walsh noted that "this is a region of the world that has seen issues in the past", meaning most airlines "have significantly reduced the amount of traffic going through the airspace – and that's been the case for a number of years".
Indeed, bodies including European Union safety agency EASA and the US Federal Aviation Administration have had airspace restrictions – including NOTAMs variously covering parts of eastern Ukraine and Crimea – in place since 2014. Some of those restrictions were introduced before the downing of Malaysia Airlines flight MH17 over Ukraine in July of that year, having been prompted by security concerns arising from the Russian invasion of the Crimean peninsula months earlier.
Aside from risks presented by military activity in the region, contested ownership of airspace has been cited by safety bodies as a significant concern.
Today, as tensions rise on the Ukrainian border, Walsh says IATA is "co-operating with all of the relevant agencies, particularly with Eurocontrol, to ensure that traffic that needs to travel in or around that area is able to avoid areas of potential conflict".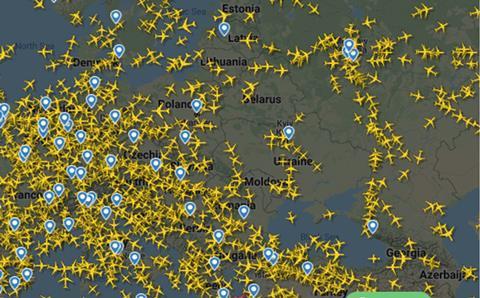 Plenty of international airlines still serve Ukraine itself, Cirium schedules data shows. In January 2022, Ryanair and Wizz Air have the most capacity on international services touching Ukraine among overseas carriers, data suggests, at more than 1,000 flights each. Turkish Airlines, Pegasus, LOT Polish Airlines, Ural Airlines, Aeroflot and S7 are also among carriers with significant international service into Ukraine, alongside local operators such as Ukraine International Airlines and SkyUp.
North of Ukraine, EASA and the FAA are among safety bodies that still have advisories in place for carriers to either avoid overflying – or exercise "extreme caution" when overflying – Belarus airspace, following an incident involving the diversion of a Ryanair flight in May 2021.