United Airlines is adding new routes between the USA and Asia as demand for flights across the Pacific Ocean sharply climbs.
The Chicago-based carrier said on 18 July that it will introduce new service between San Francisco and Manila using Boeing 777-300ERs on 29 October – making it the first US airline to connect the mainland USA with the Philippines.
Philippine Airlines already flies from Manila to Los Angeles, San Francisco and New York John F Kennedy, Cirium networks data shows.
In addition, also in October, the US carrier plans to add a second daily flight between San Francisco and Taipei, and daily year-round service between Los Angeles and Tokyo's Narita airport. The carrier already operates daily service to Tokyo's other international airport, Haneda, from Los Angeles.
"In general, the Pacific is as strong if not stronger than the Atlantic today," says Patrick Quayle, United's senior vice-president of network planning and alliances. "As Tokyo opened up to international travel in the spring, its gone gangbusters."
"People all around the world are really hungry for international travel," he adds.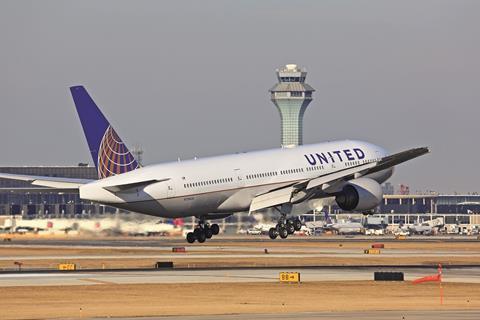 Even though the carrier is adding flights across the region, its capacity to China remains largely stagnant, Quayle says.
"We are working closely with the US government, as all the US airlines are, and the DOT is working with China to figure out a way to increase capacity," he says. "But I think this is going to be a longer process that the US government is handling."
The new flights to the destinations in Asia are all from the airline's West Coast hub cities, as overflight restrictions over Russian airspace since that country invaded Ukraine in February 2022 make operating flights to Asia from the eastern US impossible due to range limitations. Therefore, United has put its expansion plans from Newark Liberty International airport - United's hub in the Northeast US - "on pause".
"We are pretty limited [from Newark], other than that very northern part of the Pacific," Quayle says.
In addition, air traffic control issues coupled with unstable summer weather along the US East Coast have caused the airline significant operational difficulties in recent weeks. Chief executive Scott Kirby has said the airline is looking for solutions.
"We are not rethinking our international network out of Newark," Quayle says. "We are working on a comprehensive plan" for departures out of Newark . "We are going to make some changes."
Regarding aircraft delivery delays that have plagued the entire industry in the past months, Quayle expresses frustration with aircraft manufacturers Boeing and Airbus, but says United is dealing with it.
"It's frustrating. We are working with Boeing, we are working with Airbus, when both OEMs are delayed it does have an impact on capacity and how we are deploying our feet. We have to be nimble and creative. We have to adapt to challenges that we face."
United is scheduled to report its second-quarter earnings on 19 July.