United Airlines has applied for additional slots to operate flights between the USA and Tokyo's Haneda International airport after competitor Delta Air Lines renounced its slots last week.
Chicago-based United said on 25 September it wants to introduce daily service between its Houston hub and Haneda, and five-times-weekly flights between the Pacific island of Guam and Haneda.
"Awarding these unused frequencies to United will ensure that these underutilised Haneda slot pairs are finally put to their highest and best use," the airline says.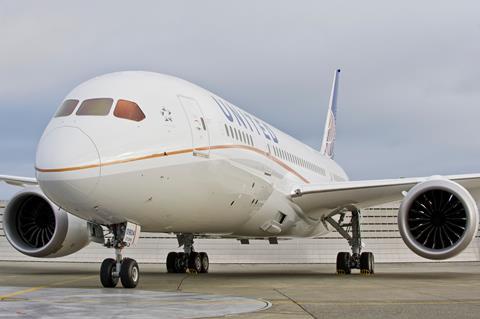 "These awards will allow United to serve the travelling public with convenient, daily service between United's key hub at Houston, one of the largest metropolitan areas in the US where demand for flights to Tokyo is among the largest in the US, as well as provide first-ever Guam–Haneda service, enhancing travel opportunities for tourism and business travellers flying to [and] from Guam," United adds.
Last week, Delta rescinded its rights to serve Haneda when it told the US Department of Transportation (DOT) in a filing that it would not begin to operate a planned daily flight from Portland, Oregon by the DOT's deadline of 29 October.
"It is a shame that Delta has known for weeks, if not months, that it has no intention of flying Portland–Haneda, with plenty of opportunities to clarify its intentions for the department and consumers, but chose instead to hold the slot pair until near the department's deadline," United says in its DOT filing.
In early May, Atlanta-based Delta asked the US government to relax slot rules for flights between the USA and Tokyo Haneda due to a "fundamentally changed" demand environment following the Covid-19 pandemic.
Delta asked the agency to grant US carriers authority to "use up to two of their slots to serve Haneda from" any US airport, its 1 May filing said. Currently, the DOT mandates from which cities US airlines must serve Haneda.
The DOT rejected that request in June, saying, "Allowing carriers to now select at their discretion a different US gateway would defeat the department's rationale for selection of the existing carriers and gateways over other competing applicants and would undermine the department's public interest determinations made for the benefit of the travelling and shipping public."
United's move is a further advance in expanding its trans-Pacific flying. In July, United said it would introduce new flights between the US West Coast and Asia from October, as demand for flights across the Pacific Ocean sharply climbs. The new flights include a San Francisco-to-Manila connection, and expanded service between both San Francisco and Taipei, and Los Angeles and Tokyo's Narita airport.
United will report third-quarter earnings on 17 October.