United Airlines has pre-emptively cancelled scores of flights scheduled for Christmas Eve due to a sudden increase of flight crew and operations personnel testing positive for the coronavirus, or being in close contact with someone who has.
"The nationwide spike of Omicron cases this week has had a direct impact on our flight crews and the people who run our operation," the Chicago-headquartered carrier says on 23 December. "As a result, we've unfortunately had to cancel some of our flights and are notifying impacted customers in advance of them coming to the airport."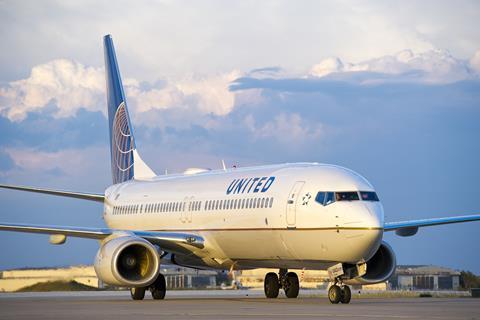 So far, as of 16:30 Pacific Time, the airline has cancelled 125 flights, or approximately 6% of its published schedule for 24 December, according to flight tracking website FlightAware.com.
FlightAware.com data show that the vast majority of the affected flights are domestic routes which were to be operated with United's Boeing 737 fleet. The carrier has also cancelled two international flights - the first from Tokyo to Houston, and another from Washington DC to Accra - that were to be operated with widebody aircraft, and a handful of flights that were to be operated with Airbus A319 or A320 aircraft.
Atlanta-based Delta Air Lines has also cancelled about 84 flights, or 4% of its schedule.
"Delta teams have exhausted all options and resources – including rerouting and substitutions of aircraft and crews to cover scheduled flying – before canceling around 90 flights for Friday," the carrier says on 23 December. "Flight cancellations are due to a combination of issues, including but not limited to, potential inclement weather in some areas and the impact of the Omicron variant."
The Omicron variant of the coronavirus has caused major disruption in the days leading up to the Christmas holiday weekend. It's more easily transmissible than previous virus variants, and now accounts for more than 70% of Covid-19 infections in the USA, the country's public health agency, Centers for Disease Control and Prevention (CDC) said earlier this week.
United was the first US airline to require its US-based workers to be vaccinated. The airline has said it achieved a staff vaccination rate of 99.7%. About 200 employees did not comply with the policy, and were terminated.
Delta did not require vaccination, but it has imposed a $200 monthly surcharge on unvaccinated employees who are members of the company's health insurance plans.
Updates on 23 December to add Delta Air Lines statement.