United Airlines was forced to cut service to 11 secondary cities across the midwestern USA beginning in January due to the pilot shortage, the company's chief executive officer says.
The Chicago-based carrier in the past weeks announced it would end flights to smaller cities including College Station (Texas), Colombia (Missouri), Lansing (Michigan) and and Evansville (Illinois), Twin Falls (Idaho) from its hubs Denver, Chicago and Houston.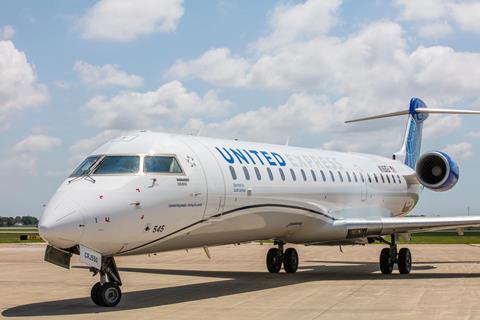 At the time, the carrier said the cuts were due to "changes in the long-term sustainability of several of our regional routes".
"It's down to pilots," Scott Kirby tells viewers of the Skift Aviation conference on 17 November. "The pilot shortage is now real, we don't have enough pilots to fly all the airplanes. It's very simple."
The coronavirus pandemic in 2020 accelerated pilot retirements across the industry as airlines cut costs, shed staff and put aircraft into long-term storage. Now, as the industry quickly returns to pre-pandemic levels, cracks are beginning to show in the airlines' planning.
Industry experts say that regional airlines like SkyWest, CommutAir and Air Wisconsin will suffer the most from the new pilot shortage. Generally, regionals pay lower salaries than the major carriers, and pilots fly smaller aircraft. As a result, these regional carriers are now offering up to $30,000 in signing bonuses to attract pilots to join their teams.
In the past months United's peers American Airlines, Spirit Airlines and Southwest Airlines have suffered major network-wide disruptions due to weather systems as well as staffing issues.
Earlier this month, American cancelled almost 2,300 flights over the course of four days, which it blamed on high winds at its Dallas-Fort Worth hub that led to a lack of flight crew. It was the second disruption in a few months for the carrier.
In June, America pre-emptively cancelled hundreds of summer flights, fearing it would have insufficient numbers of pilots and flight attendants.
At that time, the airline's pilot union, Allied Pilots Association (APA), said the carrier had furloughed 1,600 pilots when the first tranche of US government pandemic-related aid ran out last October. American offered thousands more pilots early retirement packages and six- to 12-month voluntary leave packages.
That left the airline with a significant shortage of trained and current cockpit crew, putting it in a squeeze when it started ramping operations early last year in response to increasing travel demand.