United Airlines has added more domestic flights from the Midwest and Northeast USA to warm-weather destinations in the south in a move signalling the airline is banking on leisure travel as the first segment of the industry to recover from the coronavirus pandemic.
Chicago-based United says on 12 August that it plans to add up to 28 nonstop flights between seven non-hub cities in the northern part of the country to four popular vacation destinations in Florida beginning on 6 November.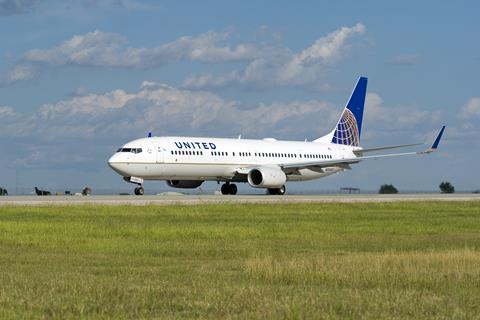 The airline will "incrementally add in these flights" around the time when the weather in Boston, New York, Milwaukee (Wisconsin), Pittsburgh (Pennsylvania), Indianapolis (Indiana), and Columbus (Ohio) turns cold and wintry, and passengers begin to think about a sunny getaway in Fort Myers, Fort Lauderdale, Orlando or Tampa.
"The new, nonstop flights reflect United's continuing strategy to aggressively and opportunistically manage the impact of Covid-19 by increasing service to destinations where customers most want to fly," United says.
Analysts have predicted that the leisure segment, namely people who have been cooped up at home after shelter-in-place orders kept them from travelling earlier this year, will show a significant amount of pent-up demand in the coming months.
In addition, the airline is signalling that it believes traditional business travel will not return to pre-coronavirus levels for quite some time.
"The addition of these new flights represents United's largest expansion of point-to-point, non-hub flying and reflects our data-driven approach to add capacity where customers are telling us they want to go," says Ankit Gupta, United's vice-president of domestic network planning.
The airline will be operating most of the routes with Boeing 737-800s and Airbus A319s and A320s. Some of the connections between secondary cities Cleveland, Columbus and Pittsburgh to Fort Myers and Tampa will be operated on Embraer 175s.
With these new routes, United is directly taking on low-cost carriers like New York-based JetBlue Airways and Miramar, Florida-headquartered Spirit Airlines, which are traditionally strong in bringing winter-weary northern vacationers to southern sun destinations during colder months.
In July, United said about 36,000 jobs, including almost 4,000 pilot roles, could be at risk as the airline expects to shrink about one-third after the coronavirus decimated passenger demand. Industry players say it will likely take up to three years for air travel to return to 2019 levels.