United Airlines has adjusted its flight schedule in the Northeast US after an operational meltdown several weeks ago disrupted hundreds of thousands of passengers.
The Chicago-based airline typically operates about 435 daily flights from Newark Liberty International airport in the New York City metropolitan area - its main East Coast hub - during the summer.
But now the carrier is reducing that figure to "well below 400 – somewhere in the 390 range… until we can come up with a creative solution", chief executive Scott Kirby said on 20 July.
Kirby had earlier blamed the Federal Aviation Administration's air traffic control staff shortages for many issues the airline experienced at the end of June and early July, a period that is among the busiest for travel during the Northern Hemisphere's summer season.
The US Department of Transportation responded that much of the airline's crisis was self-made, wtih inclement weather also contributing.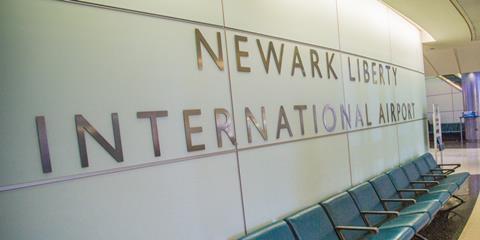 "We have done some technical things. Changes are coming that are embedded in the schedule," Kirby says during the airline's second-quarter earnings call. "The biggest thing that has happened in Newark is that the level of communication and coordination with the FAA is the highest it's ever been."
Images and videos of stranded, livid, cursing airline customers flooded social media during the week before the all-important Independence Day holiday travel period last month. On some days, airlines nixed up to one-third of flights at New York-area airports, which are some of the nation's busiest.
United chief financial officer Gary Laderman says the June meltdown shaved one percentage point of margin off the company's second-quarter earnings.
Kirby says United's improvements are already apparent.
"Last weekend the weather in Newark was worse than [during] the last week of June, but because we were closely coordinated with the FAA we were able to immediately start the recovery when the weather passed, and cancelled 77% fewer flights," he says. "I feel really good about where we are and where the FAA is about getting the most out of Newark when those events happen."
The airline is "in constant conversation with the FAA" about Newark's flight capacity, Kirby says.
Kirby himself was roundly criticised after news emerged that he chartered a private aircraft to travel from the New York area to Denver on 28 June – in the middle of the airline's crisis.
"It was a mistake and the best thing I learned is to say was, 'No excuses sir or ma'am' and to move forward," he says.
On that day, the carrier had cancelled 751 or 26% of its scheduled flights system-wide, while 1,315 or 45% of all flights were delayed, according to statistics compiled by flight tracking website FlightAware.com. The airline cancelled almost 3,000 flights that week, excluding those axed by partner airlines.