At the end of this month, United Airlines plans to begin "gradually" reintroducing to service its 52 Pratt & Whitney PW4000-powered Boeing 777s that have been grounded since February 2021 following an in-flight engine failure.
Chicago-based United said on 13 May that it expects to once again use the aircraft for revenue services from 26 May, pending approval by the Federal Aviation Administration (FAA).
"We can and will return the 777 to service, but we are still working thorough that with the FAA, Boeing, and Pratt & Whitney," says United's chief communications officer Josh Earnest. "We are very respectful of the role that the FAA needs to play to…confirm independently that it is safe to return."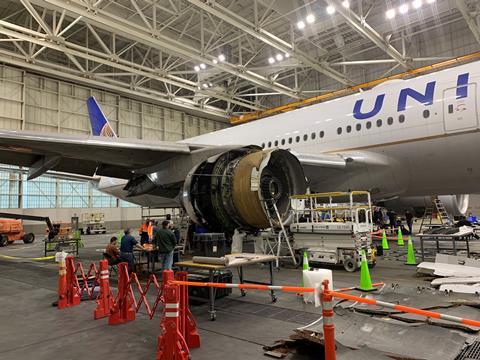 "The current plan is for us to begin flying that on May 26th, but all of that will depend on the individual assessment of the FAA and we continue to work closely with them on that," he adds.
The aircraft have been kept from flying after one example suffered a blade-out in-flight failure near Denver on 20 February 2021.
That aircraft lost its starboard PW4000 just minutes after take-off, raining debris across several neighbourhoods. Two fan blades had cracked due to metal fatigue, and the engine's inlet and cowling separated from the powerplant. There were no injuries but it was the third such incident involving a PW4000 in less than three years.
Patrick Quayle, the airline's senior vice-president of international network and alliances, says that "a handful" of the 777s will return to service initially and fly domestic missions. In mid-June, the company will have "a number [of aircraft] in the teens" operating international routes and flights from the US mainland to Hawaii. By the end of June that number will be "in the twenties".
The airline will gradually ramp up its 777 schedule over the course of the summer, he adds.
"When they return we won't add any new destinations but will develop [the schedule] with a buffer, add the aircraft back gradually so that we can operate and fly these airplanes and create schedule integrity for our customers," he says.
United also says on 13 May that it will apply to the US government to fly a new thrice-weekly service between its hub at Washington Dulles International airport to Cape Town, South Africa – the first nonstop flight connecting the capital cities of the two countries.
"We do think that there is the potential for a meaningful economic benefit for the national capital region by establishing this connection," says Earnest.
United is getting ahead of competitor Delta Air Lines in applying for the flights, aiming to take advantage of a small number of nonstop connections permitted by a bilateral agreement between South Africa and the USA.
"The bilateral agreement limits the number of frequencies to a total of 21 [flights per week]," says Quayle. At the moment, with United's daily flight from Newark to Johannesburg, and a thrice-weekly flight from Newark to Cape Town, as well as Delta's daily flights from Atlanta to Johannesburg, there are only a limited number of frequencies left to be claimed, he adds.
In flying from the nation's capital, United can offer "a much better better proposal" than competitor Delta, he adds. The route complements the company's existing portfolio of flights to other destinations in Africa, namely to Lagos, Nigeria and Accra, Ghana.
United intends to operate the flights with a Boeing 787-9 Dreamliner, and if approved, plans to launch them on 17 November.