United Airlines has come out swinging against Delta Air Lines' request to the US government for "gateway flexibility" for flights to Tokyo Haneda from the USA.
The Chicago-based carrier said on 8 May in a sharply-worded filing with the US Department of Transportation (DOT) that its competitor's request is a "self-serving scheme" that is "clearly not in the public interest".
"The department should reject Delta's latest self-serving scheme for an unprecedented and untested 'pilot programme' for 'limited' gateway flexibility at Tokyo Haneda, just as the department has rejected Delta's and others' prior requests for gateway flexibility, and should continue to use its own unbiased judgement in allocating rights based upon a full and complete assessment of public benefits," the carrier writes.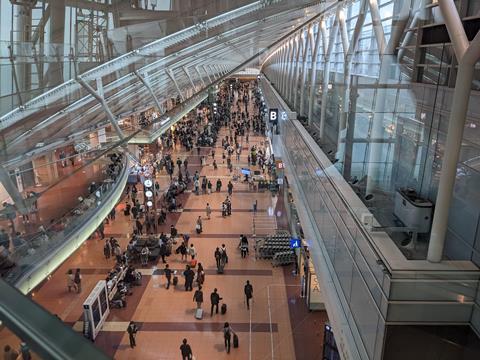 Last week, Delta Air Lines asked the US government to relax slot rules for flights between the USA and Tokyo's Haneda International airport due to a "fundamentally changed" demand environment. The Atlanta-based carrier said in its DOT filing on 1 May that demand assumptions for various routes from the USA are "no longer valid" in the post-Covid-19 era, and "need to be reassessed and refined to align capacity to actual demand".
The airline holds slots to serve Haneda from seven US cities: Atlanta, Los Angeles, Seattle, Detroit, Minneapolis-St Paul, Portland and Honolulu. Delta says demand on those routes has recovered only 64% or less. In the first quarter of 2023, it operated flights to Haneda from just the first four of those cities.
The global pandemic, it says, "materially altered the competitive landscape" on flights between the USA and Japan's capital.
American Airlines on 2 May filed a short response to the DOT in support of the proposal.
"As a current US-Haneda slot holder, American supports the requested relief," American writes. "Enabling flexible, market-based decision-making for US-Haneda service is warranted in the current demand environment."
"Gateway flexibility for up to two current slot pairs would create public benefits by allowing all participating carriers to adapt their networks to the evolving conditions in this market consistent with Open Skies principles," American adds.
UNREALISTIC PICTURE
But United wholly rejects that premise. The airline says that Delta paints an unrealistic picture of the demand environment between the USA and Japan. United says that it sees no issue with post-pandemic passenger demand on its flights to Japan following that country's lifting of all Covid-19-related travel restrictions earlier this year.
"Despite the intense challenges, travel between the United States and Japan is rebounding and access to markets like Haneda should be focused on customers," says United's chief communications officer Josh Earnest. "Demand for airline tickets to Japan is already 73% recovered – that is above average if you consider the recovery of other long-haul international destinations."
United maintains that Delta has no intention of actually operating some of its proposed flight pairs to Japan, in that it has priced the airfares far higher than its US competitors. For example, according to the Delta website, the cheapest round-trip ticket in the main cabin on the airline's planned direct flight from Portland to Tokyo in mid-November is currently listed for $10,668.
"It seems like Delta's not hoping to start Portland to Haneda service this fall," says United's vice-president for regulatory and policy, Steve Morrissey. "In fact, it is pretty obvious they're hoping they won't sell any tickets to Portland and Haneda priced at that level."
"They have tried this type of scheme before," he adds.
"If they are not going to fly the routes that they were awarded, they should say so, so that other airlines including United can compete for the opportunity to do so," adds Earnest.
In addition to the three legacy carriers, Hawaiian Airlines also operates daily direct flights between its home base of Honolulu and Haneda. Hawaiian has so far not weighed in on Delta's proposal.
"United urges the department to deny Delta's motion and continue to ensure that the department's hard-fought efforts in obtaining Haneda slots and maximising their use are not squandered," United says in the filing. "United also moves the department to reject the 'me too' answer of American, whose half-page text clearly shows American gave the issue no serious consideration."
"Should Hawaiian also file a pleading that contradicts long-standing department precedent, United is on record now objecting to Hawaiian," the airline adds.
According to Cirium networks data, ANA is currently the biggest operator of connections between USA and Haneda – 585, to eight US cities. Japan Airlines serves six US cities from Haneda with 441 scheduled flights this month. The three US carriers combined have about 800 direct connections between their US hubs and Tokyo Haneda scheduled.