United Airlines' new codeshare deal with Emirates Airline includes a related agreement with Flydubai that United views as particularly valuable in expanding its international reach.
The US carrier and Dubai-based Emirates disclosed their partnership on 14 September, with top executives of both airlines speaking at an event near Washington, DC.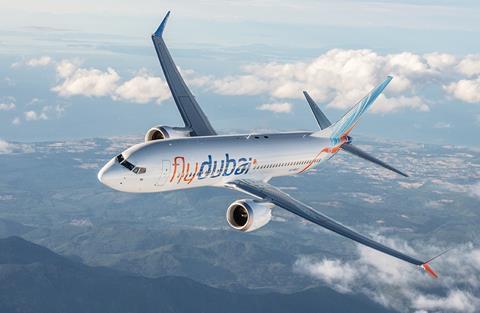 The airlines plan to link their networks through a vast web of codeshares. Emirates will gain access to United's flights from that carrier's major US hubs, while United will sell seats on Emirates' flights out of Dubai.
The arrangement will also see United launch daily flights from Newark to Dubai, scheduled to start in March 2023.
But United chief commercial officer Andrew Nocella stresses the importance of a related deal as part of the agreement: codeshares with Dubai low-cost operator Flydubai.
"Flydubai has an amazing network alone that really [is] probably not talked about all that much," Nocella tells FlightGlobal. "But when the United code is available on those flights, that is really going to open up big chunks of the world."
Emirates and Flydubai, which are separate companies but are both owned by Dubai and share the same chairman, have stepped up their co-operation over recent years – including through a wide-ranging codeshare.
While Emirates primarily serves long-haul routes using widebody jets, Flydubai flies short- and medium-haul routes using an all-Boeing-737 fleet of about 70 aircraft.
It serves more than 100 destinations, including cities in India, western Asia and throughout the Middle East, according to Cirium data.

"With the exception of a few cities in India, most of this is going to be brand new territory for United Airlines," Nocella says.
Flydubai has significant expansion plans, holding outstanding orders for 150 737 Max.
Emirates fleet includes some 280 widebody jets, most of them 777s and Airbus A380s, and holds orders for another 195 widebodies, according to Cirium. Its flight network spans the globe and tends to include large, international cities.