US airlines are preparing for potential trouble ahead of what promises to be the busiest travel weekend of the summer.
As customers return, airlines, airports and the broader air traffic system have struggled to keep up with roaring demand for air travel. Long lines at security screening checkpoints, lost luggage, hours-long waits for customer service and thousands of cancelled flights across the country put into stark relief the conundrum carriers currently face.
After shedding employees in 2020 when lockdowns and travel restrictions brought the industry to its knees, most airlines have not yet been able to return to pre-pandemic employment levels, thus creating room for disruptions across their networks.
In past weeks since the summer travel season got underway, US airlines have cancelled thousands of flights, due in part to lack of qualified flight crews, but also other staffing shortages across the aviation system, and unpredictable weather.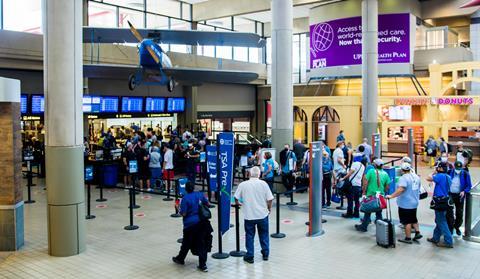 Delta Air Lines on 28 June pre-emptively issued a blanket "fare difference waiver" to customers travelling around the 4 July Independence Day holiday weekend.
"We are working around the clock to make our operation as resilient as possible to minimise the ripple effect of disruptions," Delta wrote in an email to customers. "Even so, some operational challenges are expected this holiday weekend. This unique waiver is being issued to give you greater flexibility to plan around busy travel times, weather forecasts and other variables without worrying about a potential cost to do so."
Customers with tickets for flights between 1 July and 4 July can change bookings with no fare difference or change fees, as long as they travel before 8 July.
Southwest Airlines does not anticipate similar disruptions in the coming days, saying it has hired "more than 14,500 employees in the past 12 months" to deal with the summer peak.
"Since the beginning of May, Southwest has posted solid operational reliability in terms of flight completions and a cancellation rate among the lowest of ranked carriers," the airline says.
Chicago-based United Airlines says it expects to carry 5.2 million customers over the holiday travel period, a 24% increase from 2021 and about 92% of its passenger count in the same period of pre-pandemic 2019.
Last week, the airline said it would cancel 50 daily departures this summer from its hub at Newark Liberty International airport, to alleviate airport congestion and minimise delays. The carrier says the move comes in preparation for a "national surge in demand" following two summers during which customers had been hesitant to travel due to Covid-19.
American Airlines did not respond to multiple requests for comment about its preparations for the busy summer travel period.
US flight disruptions - both cancellations and delays - have been widespread in recent weeks, with repeated reports of airports packed with stranded travellers.
On 28 June, US democratic senator Bernie Sanders urged US secretary of Transportation Pete Buttigieg to take action.
"While the price of airline tickets has skyrocketed by 38% over the last year, airline delays have increased 50% and cancellations are up by 18% compared to where they were before the pandemic," Sanders wrote to Buttigieg. "So far this year, one out of every five flights in the United States were delayed, while airlines are cancelling flights four times as often on high-travel weekends than they did in 2019."
He calls on the DOT to impose high fines on airlines that delay or cancel flights, and force them to issue prompt refunds to travellers who have been inconvenienced.