US airlines are gearing up for one of the busiest weekends of the Northern hemisphere's summer travel season.
The US Labour Day holiday, which falls on the first Monday of September – this year that's 4 September – marks the final long travel weekend of the season. Most schools and universities will have begun their new sessions by the first week of the month.
Chicago-based United Airlines said on 24 August that it's preparing for "a record-breaking Labour Day holiday" with about 2.8 million guests expected to fly on the carrier's aircraft. Travel demand is up 13%, the company adds, and will surpass pre-pandemic levels.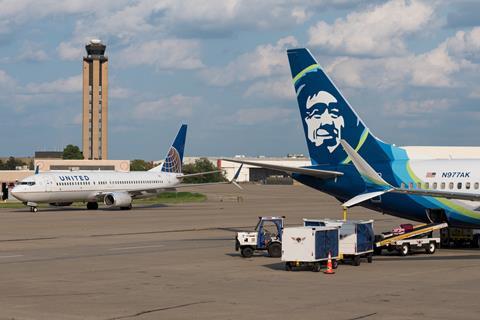 "The biggest trend we're seeing this year is that more people are sneaking in an international trip before the end of summer: bookings for international travel over the Labour Day holiday period are up 35% versus 2019 and up 29% compared to last year," United says. "And – like other long holiday weekends post-pandemic – more people are flying to their vacation destination earlier and leaving later."
The number of people flying on the Friday before Labour Day is down "slightly" compared to 2019 – but demand is up on both the Thursday before the holiday and the Tuesday after, the airline adds.
American Airlines, meanwhile, says it is expecting to welcome "nearly 3.5 million customers across nearly 32,000 scheduled flights — a schedule that's about 20% larger than our closest competitor".
The busiest travel days are forecast to be 31 August and 1 September, the Fort Worth-based carrier says. The airline has in excess of 5,800 flights scheduled for each of those days.
Atlanta-based Delta Air Lines says it estimates it will fly between 3.3 and 3.4 million passengers over the five-day holiday period. That would be an average of about 550,000 per day. During the same period last year the carrier transported nearly 2.9 million customers, and about 3.1 million in 2019.
Alaska Airlines adds that it expects to transport 700,000 passengers, up 8% from last year.
"Passenger levels for the Labour Day period are expected to be at pre-pandemic levels," Alaska says. "Volume at Seattle Tacoma International airport, our largest hub, will be about 18% higher than it was last year."
The carriers are hoping the weekend will go off without a hitch, unlike earlier long weekends this year. US airlines have repeatedly contended with operational difficulties resulting from a combination of staffing challenges, technological insufficiencies and unstable weather.
During the Independence Day weekend travel period in late June and early July, for example, United was hardest hit by that triple-whammy, and was forced to cancel almost 3,000 flights within a five-day period, with delays to thousands more.
In the past year, the DOT has introduced several consumer protection measures that it has publicised on its aviation consumer protection website. The information allows travellers to read up on their rights in the case of, for example, delays, cancellations, refunds, discrimination or lost luggage.