US airlines are gearing up for a busy Northern Hemisphere summer travel season which kicks off in 10 days with the first long weekend – marking US national holiday Memorial Day.
United Airlines on 16 May said it expects the "busiest Memorial Day holiday in more than a decade". The Chicago-based airline anticipates transporting nearly 2.9 million passengers between Thursday 25 May and Tuesday 30 May.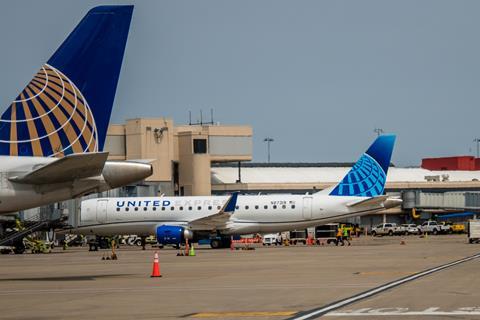 The busiest day is forecast to be 26 May, when it is planning to carry "more than 500,000 customers". Chicago, Newark and Denver will be the hubs which will see the most travellers, the airline adds.
International travel over the Memorial Day long weekend is expected to be up 16% over 2022 levels, and 10% more than during pre-pandemic 2019, United adds.
American Airlines, meantime, says that during the Memorial Day long weekend it will operate 26,637 flights and accommodate an expected 2.9 million customers.
Between 25 May and 14 August – the traditional peak summer travel period – American expects to operate 469,461 flights and transport more than 52 million customers. The busiest day is expected to be 28 July, with 6,000 departures.
Atlanta-headquartered Delta Air Lines says it anticipates carrying 2.8 million customers during Memorial Day weekend, up 17% over 2022. The carrier expects "loads to be high" through the holiday travel period.
The upcoming summer months are usually the busiest for air travel across the USA, and the industry expects another banner year due to lingering pent-up demand following the almost-three-year coronavirus crisis.
Speaking on US television network CBS on 17 May, Delta chief executive Ed Bastian said, "The planes are full, people are happy to be getting back to reclaim their life and their joy, and I don't see that changing."
"Travel is something people are prioritising," he adds.
The US Department of Transportation (DOT) and Federal Aviation Administration, together with airlines, have been taking steps to mitigate, during the peak period, delays and cancellations due to factors including staff shortages, supply chain issues and inevitable unstable summer weather. The DOT has pledged to "hold airlines accountable for taking care of passengers".
Last summer, thousands of flights were cancelled due operational failures, prompting Transportation Secretary Pete Buttigieg to blast US airlines' performance as "unacceptable" and demand carriers develop "better plans to improve services provided to passengers when their flights are cancelled or delayed because of an airline issue". But some carriers pushed back, attributing operational troubles partly to staff shortages at the FAA's air traffic control (ATC) organisation.
Earlier this month, the FAA added 169 new high-altitude aviation corridors along the US East Coast designed to save time and fuel. The routes, most of which are "more direct", will "shave off 40,000 miles and 6,000 minutes" of travel time annually, the FAA said. The corridors are situated along the East Coast and offshore over the Atlantic Ocean and Gulf of Mexico.
In April, the FAA took the unusual step of allowing airlines to temporarily vacate some allocated take-off and landing slots at major hubs in the Northeast USA due to ATC worker shortages. The regulator hopes the move will prompt airlines to reduce their volume of flights, helping prevent operational disruptions.
Typically, airlines must use assigned slots at traffic-restricted airports 80% of the time. During the global Covid-19 pandemic, when air traffic dropped sharply as a result of global travel restrictions, aviation regulators relaxed such requirements, allowing airlines to maintain slots without long-term penalties.
United, JetBlue Airways and others with large operations in the region have taken advantage of this programme and trimmed schedules accordingly.