US airlines are preparing for an onslaught of passengers during the US Thanksgiving holiday travel period this month, with some carriers expecting to carry nearly as many travellers as in 2019.
The holiday falls on 25 November this year, a Thursday. The corresponding Thanksgiving travel period extends through the weekend has historically been the busiest period of the year. In addition to Thanksgiving Day, many US employers are closed the following Friday, meaning a four-day break.
Atlanta-based Delta Air Lines expects, during the 12 days from 19-30 November, to carry double the number of passengers as during the same 12 days in 2020, it says on 16 November.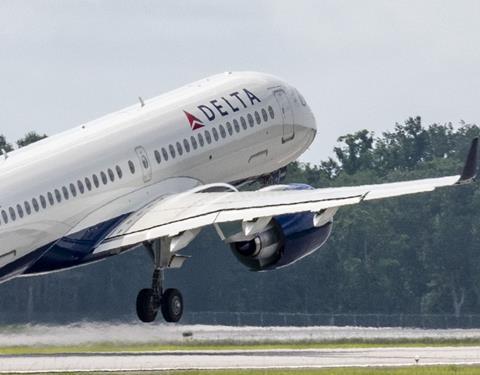 "The Thanksgiving holiday period is expected to return to levels not seen since before the Covid-19 pandemic, with Delta anticipating at least 5.6 million passengers," the airline says. "Delta has increased staffing levels across the operation, including in customer service and reservations, and new flight attendants have graduated to accommodate the growing number of flights."
Major US peer United Airlines said on 15 November that it expects about 4.5 million passengers during the same 12-day period, about 88% of 2019 figures.
"United is adding about 700 domestic flights Thanksgiving week, and will fly 87% of our domestic schedule in November," the Chicago-headquartered carrier said.
For December, United expects to fly its largest domestic schedule since before the global health crisis, with an average of more than 3,500 daily domestic flights, or 91% of its comparable 2019 schedule.
American Airlines has scheduled an average of about 5,000 daily departures to more than 300 destinations during the week of Thanksgiving, it says on 16 November. The Fort Worth-based company says its busiest days will be 24 November and 28 November, with 5,500 departures on both days.
Between the Monday and Sunday of Thanksgiving week, American plans to "operate 92% of our 2019 flying schedule," the airline says. In 2019, American averaged 5,400 flights daily during the period.
Fears that US airlines' operations could be disrupted due to the US government's coronavirus vaccination mandate were allayed earlier this month when the deadline for employees to be vaccinated was pushed to January.
In its initial plan, the US government had set a deadline of 24 November – the day before Thanksgiving – for all federal contractors, including airlines, to have their workforces fully vaccinated.
That deadline has now been pushed to the first week of January, after the traditionally busy end-of-year holiday season.
While the vast majority of United's workforce is fully vaccinated – the airline imposed its own mandate for US-based employees early on, terminating those who did not comply or who did not receive an exemption – American, Delta, Southwest Airlines and others have not imposed such rules.
While those carriers continue to encourage employees to be vaccinated, they have been cagey about revealing what percent of their workforces have done so.
"We do not have numbers to share but the vast majority of our team members are vaccinated," American says.
Meantime, the Transportation Security Administration, the government agency responsible for security screenings at almost 450 US airports, says the number of passengers passing through its checkpoints is steadily increasing. On 14 November, it screened 2,150,210 commercial airline customers, about 90% of the number that passed through its checkpoints in pre-pandemic 2019.
The highest number of daily passengers since the beginning of the pandemic in March 2020 was 2,238,462, on 1 August 2021, TSA says. The pandemic low was 87,534 travellers, on 13 April 2020.