US airlines have asked the Federal Aviation Administration to extend slot waivers at some busy airports in the Northeast USA through the end of October.
In a letter to the FAA dated 7 August, lobby group Airlines for America (A4A) asked the government to keep the slot relief – first announced in March and due to be in effect from 15 May until 15 September – in effect for an additional six weeks to "maintain operational integrity". It is asking the FAA for an extension until 28 October, which is the end of the full summer season as defined by IATA.
The organisation adds that such waivers would be "in the best interest of the flying public because it will minimise disruptions and provide greater predictability for airlines and consumers".
A4A represents 10 of the largest carriers in the USA.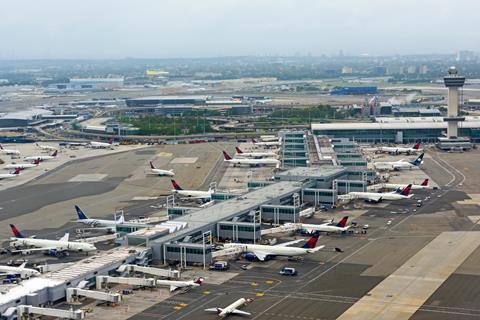 "While operational reliability during the past few months has been challenging even with the relief provided, it would have been materially worse if FAA had not taken this action," A4A writes.
Staffing at the New York Terminal Radar Approach Control (TRACON) facility (N90) has been 54% of what would normally be required, the organisation says.
"The FAA has observed that unless carriers reduced their flight schedules, this staffing challenge would likely cause operational disruption until responsibility for the Newark airspace sector was moved to the Philadelphia TRACON."
"Since the issuance of the March waiver, the Newark airspace has not been transferred, nor have the staffing levels at N90 meaningfully improved."
Typically, airlines must use assigned slots at traffic-restricted airports 80% of the time. During the global Covid-19 pandemic, when air traffic dropped precipitously, aviation regulators globally relaxed such requirements, allowing airlines to maintain slots without long-term penalty.
"Carriers have been hiring aggressively and will continue to make significant investments in human and technological resources to ensure that even more reserve crews exist to improve resiliency when irregular operations occur," A4A says. "However, air traffic control staffing and extreme weather are unique circumstances beyond our control that merit a limited and conditional waiver of slot usage rules until the system can stabilise."
In March, the FAA had told airlines operating out of New York City area airports Newark Liberty International, John F Kennedy International and Laguardia as well as Washington DC's Ronald Reagan Washington National airport that they could leave up to 10% of assigned slots unused through the summer travel season due to staffing bottlenecks at ATC facilities. Some airlines did reduce their schedules from the affected airports.
Nevertheless, a series of summer storms have caused major operational issues for numerous airlines across the region this summer.
United Airlines, which maintains a busy hub at Newark, was hit hardest over the long Independence Day weekend, which is traditionally one of the season's busiest. On 28 June, for example, the carrier cancelled 751 or 26% of its scheduled flights system-wide, while 1,315 or 45% of all flights were delayed, according to statistics compiled by flight tracking website FlightAware.com. The airline cancelled almost 3,000 flights that week, excluding those axed by partner airlines.