The US government has agreed to allow Chinese airlines to increase the number of direct flights between the two countries more than three years after the beginning of the global Covid-19 crisis, with the government of China apparently reciprocating.
In a document published on 11 August, the US Department of Transportation (DOT) said that effective 1 September, Chinese carriers may increase the total number of weekly round-trip flights to the USA to 18, from 12 previously, with that number rising to 24 on 29 October.
The Chinese carriers covered under the order include Air China, China Eastern Airlines, China Southern Airlines, Xiamen Airlines and Hainan Airlines.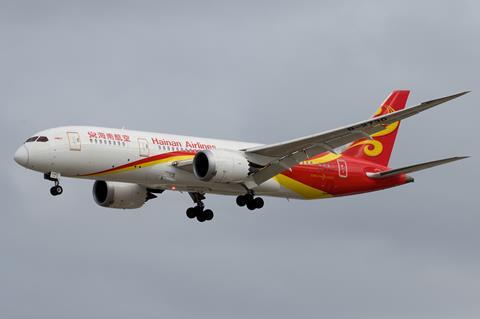 "Our overriding goal is an improved environment wherein the carriers of both parties are able to exercise fully their bilateral rights to maintain a competitive balance and fair and equal opportunity among US and Chinese air carriers," the DOT says.
Flights between the two countries had been severely curtailed since June 2020, when the Chinese government "had, over the objections of the US government, impaired the operating rights of US carriers and denied US air carriers the fair and equal opportunity to exercise their operating rights under the US-China Civil Air Transport Agreement", DOT says.
Since then, as coronavirus-driven travel restrictions have eased, the number of flights between the two countries has increased incrementally, most recently to 12 weekly round trips for each countries' carriers, in May.
Shortly after DOT's decision to open US airspace to more flights from China was published, United Airlines says it is expanding its schedule to that country, leading to the conclusion that the Chinese government will reciprocate for US airlines.
"These enhancements to United's Asia-Pacific schedule are enabled by agreement between the governments of the US and China to increase flights between the two countries," Chicago-based United said on 11 August.
The airline plans to resume daily flights to Beijing from its West Coast hub of San Francisco beginning in November, and will increase its flight frequency to Shanghai beginning on 1 October.
"We are grateful for this positive step forward in US-China passenger air services, and we thank the many officials from both countries who partnered to make this reinstatement of air service possible," says Patrick Quayle, United's senior vice-president of global network planning and alliances.
"This announcement is good news for United customers because we believe that a daily flight to Beijing and a daily flight to Shanghai from San Francisco is consistent with the demand we see in the market right now," he adds.
United says that reaching China from its East Coast hubs remains "severely limited" by overflight restrictions in Russian airspace.
American Airlines and Delta Air Lines, which also operated numerous weekly flights to China prior to the global pandemic, did not comment on the order.