The US Department of Transportation (DOT) has largely denied Spirit Airlines' and JetBlue Airways' requests for exemptions to minimum service rules required for carriers that accept government aid.
The agency had imposed minimum service requirements in order to ensure airlines maintain a number of domestic air connections even though few passengers continue to travel.
Carriers, which have consolidated their networks due to the sharp drop-off in demand following the coronavirus health emergency, had applied for exemptions enabling them to cut some cities from their networks.
The DOT denied ultra-low-cost carrier Spirit's request to curtail service to 25 of 26 requested airports from 8 April 2020. The only request the DOT accepted was for Aguadilla's Rafael Hernández International airport on Puerto Rico, which has been completely closed by the FAA.
JetBlue must reinstate service to nine of 11 airports for which it requested exemptions. The two points to which the DOT approved the exemptions are Aguadilla and Mercedita Ponce International airport, also on the island of Puerto Rico. All traffic to Puerto Rico is now channeled through San Juan's Luis Muñoz Marín International airport.
Neither airline could immediately be reached for comment.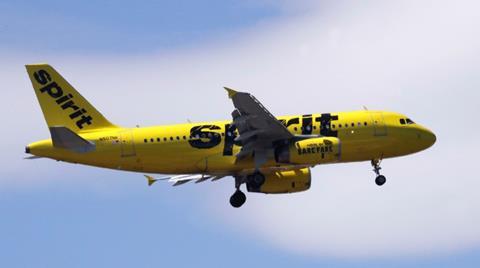 "Spirit has not persuaded the department that we must strike a different balance with respect to the remaining covered points in Spirit's request," the DOT writes in a ruling on 16 April. It is requiring Spirit to resume service to the airports, excepting Aguadilla, within seven days of taking financial aid made available through the CARES Act coronavirus economic relief law.
In its request last week, Fort Lauderdale-based Spirit said it, like other airlines, "is in survival mode", and that meeting the service requirements "will rapidly exhaust Spirit's financial resources and manpower, while adding virtually nothing to those cities' access to air transportation at this time". Therefore, the airline argued, it is not reasonable nor practical to continue serving all of its destinations as before.
The language in the DOT's JetBlue ruling is similar, saying that carrier has also not shown cutting destinations would be in the public interest.
In its filing on 8 April, the New York-based airline said it faced a liquidity crisis due to the near-total lack of demand. "There are so few customers travelling to justify even the reduced service levels required by the order, and a rigid interpretation of the service obligation will only threaten to unnecessarily diminish JetBlue's liquidity, with no commensurate public interest benefit," the airline said. The filing added that JetBlue had earned $1 million in revenue daily in April, compared to $22 million daily during the same period a year ago.
The $2 trillion CARES act, approved by the US government in late March, provides about $60 billion specifically for airlines and aviation-related industries, in order to support them as they navigate the crisis created by the coronavirus.
Airlines have argued that flying even a skeleton network with very low load factors will simply burn cash and make it difficult for them to operate long-term.
JetBlue said on 14 April it will partake in the US government's airline payroll support programme to the tune of $936 million – 76% of funds needed to make payroll for the second and third quarters. The carrier will receive direct support of $685 million and take an additional $250 million in the form of a low-interest rate loan, that starts to get paid back in October.
Exemption requests by other airlines including mainline carriers United Airlines, American Airlines and Delta Air Lines remain outstanding.