The US Department of Transportation (DOT) has fined Panama-headquartered Copa Airlines $450,000 for "unlawfully transporting passengers" between the USA and Venezuela.
A US order, imposed in May 2019, bars commercial air carriers from transporting passengers and cargo between the two countries. The rule was enacted due to "security concerns" and bolsters the US' simmering conflict with the socialist government of the South American country.
Copa has permission to fly to several US airports under the condition that it does not offer any further connections to Venezuela.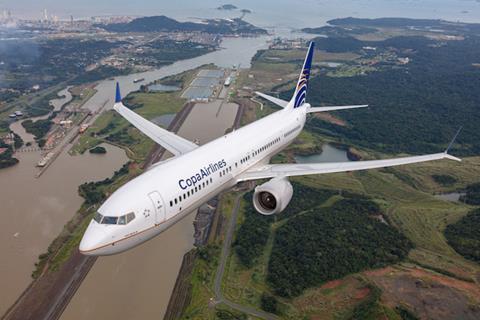 "An investigation by DOT's Office of Aviation Consumer Protection found that for nearly a month following the issuance of DOT's 2019 order, Copa sold more than 5,000 tickets for air travel between the United States and Venezuela and transported more than 15,000 passengers on these itineraries," the DOT says on 17 June.
The passengers traveled between 15 May and 11 June 2019.
"By transporting passengers between the United States and Venezuela, Copa violated the conditions of its authority to operate and engaged in passenger operations to and from the United States without proper DOT authority," it adds.
The DOT's filing says Copa responded that it had sold these tickets unwillfully, that it understood "the seriousness of the matter" and cooperated fully. The airline also said it has "taken considerable and substantive steps to avoid future violations".
Half of the fine is to be paid within 120 days, and the other half will become due immediately if Copa repeats the violation within one year.
Prior to the 15 May 2019 order, the FAA had banned US carriers and pilots from flying below 26,000ft over the country. An emergency NOTAM stated that the ban would be in place until further notice "due to increasing political instability and tensions in Venezuela and the associated inadvertent risk to flight operations."
Copa Airlines suspended most of its operations after the government of Panama imposed restrictions on international flights due to the global coronavirus pandemic. Before the crisis, however, the airline operated flights to 13 cities in the United States, including New York, San Francisco, Orlando and Washington, DC.