The US Department of Transportation (DOT) has rejected Delta Air Lines' request for flexibility in selecting departure points of flights to Tokyo's Haneda International airport.
In a filing published on 30 June, the DOT "denies the motion of Delta Air Lines to confer onto all US-Haneda slot holders the flexibility to use up to two of their currently allocated US-Haneda slot pairs to serve Haneda from any US gateway of their choosing".
In early May, the Atlanta-based carrier had asked the US government to relax the slot rules for flights between the USA and Haneda due to a "fundamentally changed" demand environment.
Delta claimed that demand assumptions for various routes from the USA were "no longer valid" in the post-Covid-19 era, and "need to be reassessed and refined to align capacity to actual demand".
"Allowing carriers to now select at their discretion a different US gateway would defeat the department's rationale for selection of the existing carriers and gateways over other competing applicants and would undermine the department's public interest determinations made for the benefit of the travelling and shipping public," the DOT says.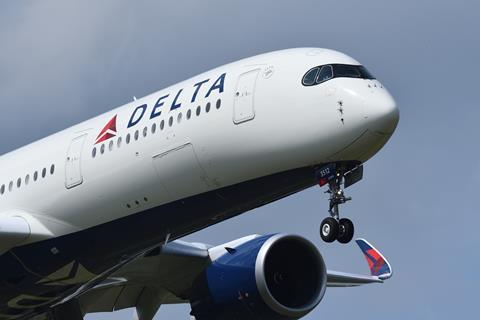 In response, Delta says it's "reviewing the Department's decision and evaluating next steps".
Earlier this year, the DOT had extended slot relief for airlines flying to China, Hong Kong and Japan due to continued depressed demand for travel on those routes. The relief temporarily allowed airlines to leave slot assignments unused without risking losing them.
Delta was looking for DOT to ease Haneda slot restrictions because of sluggish demand in the post-Covid-19 environment. Specifically, Delta asked the agency to grant US carriers authority to "use up to two of their slots to serve Haneda from" any US airport, its 1 May filing said. Currently, the DOT mandates from which cities US airlines must serve Haneda.
The global pandemic, Delta maintained, "materially altered the competitive landscape" on flights between the USA and Japan's capital. At the time, US peers American Airlines and Hawaiian Airlines supported the flexibility Delta requested, while United Airlines vehemently disagreed.
"We do not believe… that the public interest would be best served by allowing carriers to change their selected US gateways to Haneda, even on a temporary or limited basis," the DOT says. Delta must submit an entirely new request for slots, with its proposed departure points.
Updates on 30 June to add Delta Air Lines' statement.