The US Department of Transportation (DOT) has suspended 44 flight segments operated by Chinese air carriers in retaliation for Chinese cancellation of flights by US carriers due to alleged violation of the Asian country's Covid-19 rules.
It's the latest volley in an increasing spat between US and Chinese aviation regulators about the rules, as China remains committed to a zero-Covid infection policy.
The DOT says on 21 January that its sanctions, which take effect immediately, are due to the Civil Aviation Administration of China (CAAC) recently "impairing the operating rights of three US carriers". Its order applies to flights operated by Air China, China Eastern Airlines, China Southern Airlines and Xiamen Airlines.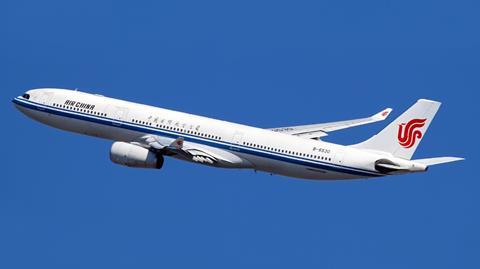 CAAC last week suspended two United Airlines flights between San Francisco and Shanghai Pudong, as well as four China Southern Airlines flights between Los Angeles and Guangzhou. Other carriers forced to suspend flights between the two countries in the past weeks include Delta Air Lines and American Airlines.
DOT at the time complained that the cancellations were "inconsistent with obligations under the US-China air transport agreement" and the new sanctions are a direct response to the Chinese suspensions.
"We find that CAAC's recent actions impairing the operations of Delta, American, and United…are adverse to the public interest and warrant proportionate remedial action by the department," the order reads. "CAAC's unilateral actions against the named US carriers are inconsistent with the provisions of the agreement and are premised on circumstances wholly outside of the carriers' control."
The cancelled flights include connections during February and March between Los Angeles and the cities of Shenzhen, Xiamen, Tianjin and Guangzhou, as well as flights between New York's JFK airport and Shanghai Pudong.
China has imposed strict restrictions for carriers whose aircraft arrive with Covid-19-positive passengers on board. The CAAC's so-called "circuit breaker notice" stipulates that if five to nine passengers on an inbound flight test positive for coronavirus, the airline must choose one of two operational restrictions: either to suspend flights for four weeks after the "circuit breaker" event, or impose a load factor limit of no higher than 40% starting four weeks after the event.
DOT says US airlines were denied the option to reduce load factors, and were forced to cancel flights to China.
"The US government has repeatedly raised its objections with the government of China over the 'circuit breaker' measure and its inconsistency with the provisions of the agreement," DOT says. It places "undue culpability on carriers with respect to travelers who, despite having presented negative test results prior to boarding, test positive for Covid-19 up to seven days after their arrival in China."
China and the USA first sparred over flight cancellations last August, again over the "circuit breaker" measures, which the DOT said were "unilaterally imposed". In a tit-for-tat, the DOT imposed a 40% capacity limit on Chinese airlines flying into the USA at that time.