US start-up carrier Avelo Airlines plans to operate its first flights outside the continental USA with new routes from the East Coast to the Caribbean starting in November.
Earlier this month, the ultra-low-cost carrier (ULCC) said it would launch on 15 November twice-weekly flights from Connecticut's Tweed-New Haven airport to Puerto Rico's San Juan Luis Munoz Marin International airport.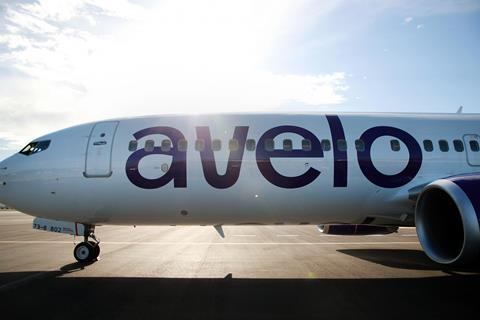 "We expect the affordability and convenience of this new route will inspire a meaningful number of travellers to visit Connecticut from Puerto Rico," chief executive Andrew Levy said on 1 August.
The airline says it will become the "first and only airline offering nonstop service between southern Connecticut" and Puerto Rico.
On 10 August, southern California-headquartered Avelo said it also plans to connect Wilmington airport in the greater Philadelphia area to San Juan and Sarasota, Florida. The twice-weekly service to San Juan will launch 15 November, while flights from Wilmington to Sarasota will start 2 November.
Both routes will be flown with the two 189-seat Boeing 737NGs Avelo has stationed at its base in Wilmington, Delaware – one of its six operational bases across the USA.
"Avelo is the first airline to offer nonstop flights beyond the continental United States at [Wilmington] — the convenient, affordable and travel-friendly alternative to Philadelphia International airport," the carrier says.
With the two new routes, Avelo plans to fly to 15 cities from its base in Wilmington. The carrier says it has flown more than 125,000 passengers to and from Wilmington since opening the base in February.
Avelo's network has grown to include 47 US cities since launching in April 2021. The airline operates 15 737-700s and -800s, all between 10 and 20 years old, according to Cirium fleets data.
In May, ULCC competitor Breeze Airways disclosed that it was planning to launch its first international flights with once-weekly operations between Los Angeles International and San Jose del Cabo International airports.