The chief executive of British Airways has called for the UK government to add the USA to its 'green list' of destinations to which non-essential travel is possible without quarantine.
Speaking on the day that BA operated its first flights to Portugal and Gibraltar under the UK's tentative relaxation of Covid-19 travel restrictions, Sean Doyle said that it is "clear to us that America should be on the green list", adding: "The importance of the US and UK [air travel market] cannot be underestimated [sic]."
The transatlantic market is a crucial one financially to many network carriers, with the Heathrow-based operator flying to more than 25 destinations in the USA pre-Covid, according to Doyle, but only serving "a handful" today.
In his view, the USA's advanced vaccination programme, falling Covid-19 case rates and relatively low instances of the so-called Indian 'variant of concern' mean that air connectivity can be opened up.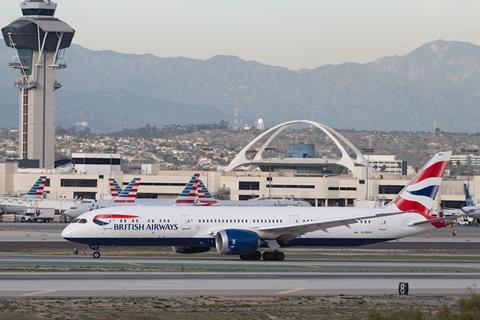 Speaking at the same event, Heathrow airport chief executive John Holland-Kaye said he was "surprised and disappointed that the Caribbean [also] didn't make it on to the green list, when many islands pose such a low risk".
He further suggests that "Spain, Greece, Cyprus, Malta, France and Germany are making tremendous progress, and we expect them to be added to the green list soon, and certainly in time for the summer holiday season".
The situation is "becoming urgent" for travel companies that rely on the profits they make during the summer season, Holland-Kaye warns.
"If there is no getaway is July and August, many companies will not make it to next year," he states.
To give customers the confidence to book air travel, the BA and Heathrow chiefs want the UK government to publish a list of countries it expects to add to the green list for the summer season, and for fully vaccinated travellers to be exempt from Covid-19 testing requirements.
At the same time, Doyle acknowledges that BA and Heathrow are "mindful of the clarity being sought about the Indian [Covid-19] variant", which scientist have suggested is probably more transmissible than previous dominant strains.
"We're not here today to advocate for a wholesale return to unrestricted travel," Doyle says.