Vietnam Airlines has decided it will carry passengers from Europe, but will take significant precautions amid the global coronavirus outbreak.
Passenger services from London, Paris, and Frankfurt are part of what the carrier says is an effort "to uphold its national responsibilities."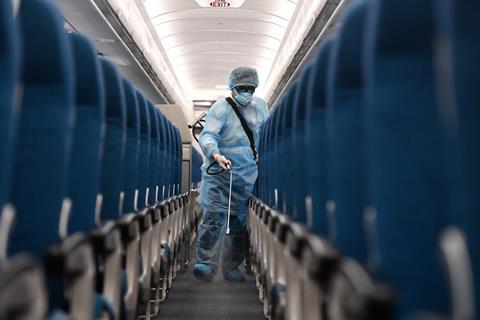 The statement, issued on 15 March, came one day after a separate statement where the carrier said that it would operate flights to Europe in order for tourists to return to their home countries, but that the aircraft would fly back to Vietnam empty.
Prior to embarking for Vietnam, passengers will undergo temperature screening and an interview. They will be required to wear face masks and gloves during the flight. Their condition will be monitored while in the air and they will undergo post-flight quarantine after landing.
"All the flight crew members will be equipped with specialised medical protective clothing," adds the carrier. "For passenger and crew safety, only drinks and dry snacks are served. These flights will land at predetermined airports in Vietnam after Vietnam Airlines has come to an official decision with the competent authorities."
Another Vietnam Airlines statement, issued on 13 March, had said that from 25 March, the carrier will reduce its European capacity from 14 services weekly. This statement added that the Vietnamese government had unilaterally suspended visa exemptions for Denmark, Norway, Finland, Sweden, the United Kingdom, Germany, France, and Spain.
The carrier has recently stressed its efforts to disinfect aircraft, following a coronavirus outbreak in Hanoi related to a passenger on a Vietnam Airlines service from London earlier in the month.