The Civil Aviation Authority of Vietnam (CAAV) has proposed allowing its airlines to ramp up capacity on domestic flights, with the aim of reaching "normal operations" by 2022.
The authority has written in to the country's transport ministry with its proposal, citing a number of "problems and shortcomings" in the current regulations around domestic flying.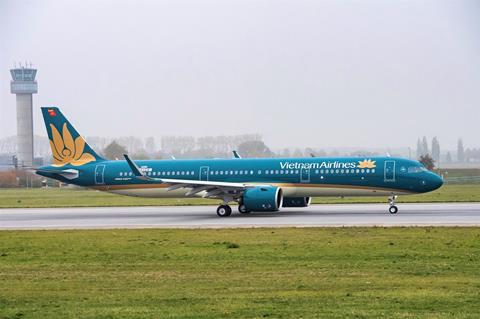 Vietnam has resumed domestic flying in mid-October after battling a particularly lethal wave of coronavirus infections.
The country's carriers are presently allowed one flight a day on key trunk routes, a move which the CAAV says has led to a "focus" on higher ticket prices, "limiting the opportunities for promotional prices, causing frustration among passengers". It adds that the limited frequencies "make it difficult" for travellers to plan day trips.
To this end, the CAAV proposes that airlines be allowed up to 16 flights per day for flights to and from Ho Chi Minh City, Hanoi and Da Nang, between 1 and 14 December.
Under the CAAV's plan, flag carrier Vietnam Airlines and VietJet Air will each be allocated five daily flights, while Bamboo Airways will be allowed three flights a day. Low-cost carrier Pacific Airlines will be allocated two flights a day and start-up Vietravel Airlines will allowed one daily flight.
The frequency expansion will allow smaller airlines, like Vietravel Airlines "to participate" in domestic flying, says the CAAV.
From 15 to 31 December, the daily frequencies will rise to 20 flights a day for the trunk routes.
In the new year, the CAAV suggests doing away with the frequency limits, allowing airlines to "resume normal operations".
In its proposal to the transport ministry, the CAAV has also called for the abolishment of inflight service restrictions.
Current regulations – implemented to pandemic management purposes – disallow airlines to serve food or drinks on domestic flights, except for drinking water.
This has caused "inconveniences" for passengers, says the CAAV, pointing out that the move also "affects the operations of enterprises that provide catering for airlines".
Data from the CAAV shows that between 21 October and 18 November, Vietnamese carriers operated more than 2,200 domestic flights across 44 routes. They jointly carried close to 447,000 passengers, says the authority.
Unsurprisingly, Hanoi-Ho Chi Minh City has seen the highest travel demand: average load factors for the route has constantly hit above 90%, says the CAAV.