Virgin Atlantic is hopeful "lessons have been learned" to avoid a repeat of this spring's operational challenges at London Heathrow airport next summer.
Heathrow was among the hardest hit of European airports this year amid the ramp-up in air travel demand as they struggled with a labour shortage. It ultimately imposed a cap in the number of departures over the summer in a bid to improve operational reliability.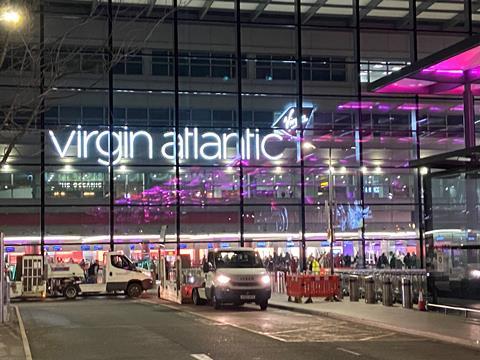 That cap was lifted at the end of last month, in part because of slowing travel demand from the summer peak. However in lifting the cap, the airport also flagged other mechanisms may be needed to keep supply and demand in balance during peak periods, raising some alarm about the forthcoming Christmas holiday period.
Heathrow airport's chief executive John Holland-Kaye said, during the airport's subsequent third-quarter results call, that the organisation is working with airlines on the peak periods and that he does not expect changes will have a material impact on passengers.
"Customers want to fly, particularly around the Christmas season," said Virgin Atlantic chief customer and operating officer Corneel Koster during an interview with FlightGlobal on 2 November.
"We are very happy that Heathrow have said that capacity reductions will not be necessary. We are supporting [this]. We will spread out some of our flights on the peak days, to support a slightly less-congested experience going through security," he says.
However he adds: "We will support [it], but cancelling flights is not an option.
"It is an entire ecosystem, we all have responsibilities," Koster says, "But some of these things are under the direct control of Heathrow, like security, for example, or baggage resilience, and how you cope with failures. They have a real role to play to be the overall orchestrator of the ecosystem coming back, and I think they were too focused on down-playing demand and not focused enough on getting their system ready."
Heathrow recently appointed its operations chief Kathryn Leahy to lead liaison efforts with airlines, ground handlers and other companies at the airport.
Holland-Kaye, in Heathrow's October results call, said the airport was around 85-90% back to full capacity in terms of staff.
Koster says Virgin was itself relatively unscathed by the operational problems, something he attributes to the early start it made in bringing back aircraft and staff.
"If you don't start that curve early enough… then you are going to run out of time. We had the lucky foresight to start up early and to adjust as we went along, and that enabled us to fly a full programme. It has not been easy.
"I have to say, we have been disappointed by Heathrow's preparation. We told them in November last year that demand was going to be really strong in [2022], as soon as the US opened. We knew the summer was going to be really strong, and at that time Heathrow was still downplaying demand – we could say they are still now downplaying demand."
While Heathrow has lifted its full-year passenger forecast to between 60-62 million passengers after the strong summer, it flagged continued headwinds in saying it is unlikely to return to pre-pandemic passenger demand for a number of years, except at peak times.
Airlines and Heathrow spent much of the year at loggerheads on how quickly demand will return, amid the wider issue of airport charges. A final decision from the UK's Civil Aviation Authority on charging levels at Heathrow through 2026 is expected shortly.