Mexican low-cost carrier VivaAerobus has been quick to announce new routes to the USA after the US aviation regulator's long-awaited decision to lift the country's safety status back to Category 1 after more than two years.
Monterrey-based VivaAerobus said on 27 September that it was introducing six new routes to the United States – to Austin, Denver, Miami, New York, Oakland and Orlando, three domestic Mexican routes – to Durango, Tapachula and La Paz, and an expansion of its network from Monterrey.
"This expansion of services will result in a total of 13 million seats offered in Monterrey by 2024," the airline says. "This represents an increase in capacity of 23%, almost 2.5 million more seats than what it will operate in 2023.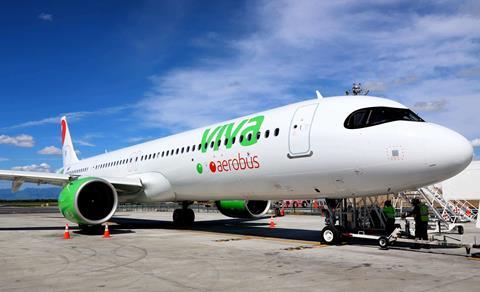 Monterrey to Denver will begin operations on 25 January with two flights a week and service to Austin will launch on 22 March with four-times-weekly flights. The route to Orlando will begin on 9 May with thrice-weekly flights, and services to Miami and San Francisco (Oakland) will begin on 1 July with three and two weekly frequencies, respectively, the airline says.
The details of the Monterrey-to-New York connection "will be announced soon".
"This increase is the largest that Viva has made in its 16 years of history," the carrier adds.
Volaris and Aeromexico are expected to soon follow suit with new route announcements. Mexico's Infrastructure, Communications and Transportation minister Jorge Nuo Lara recently said Volaris will likely request 33 new routes, looking to fly to Los Angeles, Chicago and San Antonio, as well as to Tulum and Merida. Aeromexico is looking at five new routes.
The network expansions come two weeks after the Federal Aviation Administration re-instated Mexico's Category 1 safety status, the highest level, allowing airlines once again to increase connectivity between the two countries.
The long-awaited reinstatement, which had been rumoured for several days prior to the 14 September announcement, comes more than two years after the US aviation regulator degraded the country to "Category 2".
The FAA had downgraded Mexico's International Aviation Safety Assessment (IASA) rating in May 2021 "after finding the country did not meet International Civil Aviation Organization (ICAO) safety standards".
Category 2 designations mean the FAA does not view a country as having laws or regulations needed to support safe air travel, or that its civil aviation authority lacks adequate technical expertise, trained personnel, record keeping, inspection procedures or resolution of safety concerns.
While the FAA allowed existing air service between the countries to continue, the Category 2 designation restricted Mexican carriers from introducing new US routes and hindered US airlines' ability to market and sell tickets on Mexican carriers via codeshare partnerships.
The FAA provided expertise and resources to Mexico's aviation regulator AFAC in order to resolve the issues that led to the downgrade. It adds that it sent a team of aviation safety experts "multiple times over the last two years" to assist.