Fresh data from Eurocontrol shows there were under 100,000 weekly flights across the European network for the first time since mid-July.
Eurocontrol's latest weekly dashboard indicates there were 99,217 flights during the week ending 11 October.
"[The] Network saw fewer than 100k flights – the first time this has happened since week 29 in the middle of July," says Eurocontrol director general Eamonn Brennan in a social media posting today.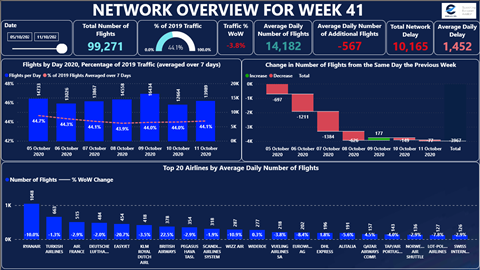 The figures provide further evidence of how the recovery in European airline flight activity has not just stalled, but begun to fall away amid increased travel restrictions across Europe.
Flights across the network in Europe were averaging around 120,000 per week during August. While the higher number in part represents the typically busier demand for air travel within Europe in August, comparison with 2019 flight activity illustrates a reduction in activity as well. In August flight activity was reaching around 48% of 2019 levels. The figures for the week ending 11 October are around 44% of 2019 levels.