Canada's WestJet has expanded its US network by adding flights from two western cities to Las Vegas to cater to sun-hungry Canadian holiday-makers.
The Calgary-based carrier said on 20 September it will begin operating twice-weekly service from Victoria, on Vancouver Island, to Las Vegas in February. The announcement comes just days after WestJet said it will fly to the US desert city from Kelowna, British Colombia, also twice-weekly, from December.
"WestJet is proud to add our newest route to our winter schedule, and bolster Victoria's trans-border connectivity to Las Vegas," says John Weatherill, WestJet's chief commercial officer. "Victoria is an important part of our Western Canada growth plan."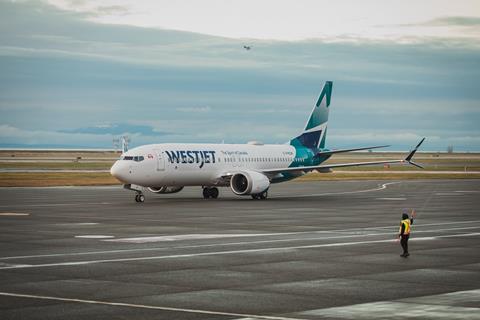 It is the airline's first transborder connection from Vancouver Island, the company says.
WestJet last connected the two cities in 2020. The Kelowna-to-Las Vegas flight was last operated in 2017. It also operates a weekly flight between Kelowna and Phoenix.
The routes are popular with Canadians looking for a warmer climate during the country's long, dark winter.
Last week, Canada's second-largest airline also announced an expansion of its codeshare agreement with Air France. From 25 September, WestJet customers will "gain access to 31 additional cities across 11 European countries from Paris Charles de Gaulle airport", the airline said.
Previously, the codeshare agreement included 22 destinations through Charles de Gaulle, all of which will also be maintained, the airline says.
WestJet says that "due to exceptional demand" for its seasonal service between Calgary and Paris, it has decided to operate that route all year, using Boeing 787 Dreamliners.
"As we prepare for our first year of winter flying to Paris, today's announcement marks an important milestone in our partnership with Air France, that will bolster seamless connectivity between Canada and desirable destinations such as Nice in the south of France, Helsinki in Finland and sunny Valencia in Spain," Avery adds.
The airline has seven 787s for its long-haul flights to Europe and Asia.