Canadian airline WestJet plans to expand its connectivity from Calgary and Edmonton by almost 30% and 50%, respectively, over 2022 levels, beginning in April.
The Calgary-based carrier said on 13 February it will launch 20 new routes from the two cities in Alberta, and add other new flights from Vancouver, to destinations across the USA and eastern Canada.
"We are thrilled to be expanding our network and giving our guests substantial opportunity to explore the US and Canada from coast to coast this summer," says chief executive Alexis von Hoensbroech. "From increased domestic options to expanded regional and transborder connectivity throughout western Canada, our summer schedule demonstrates our unwavering commitment to fulfilling the diverse needs of Canadian travellers."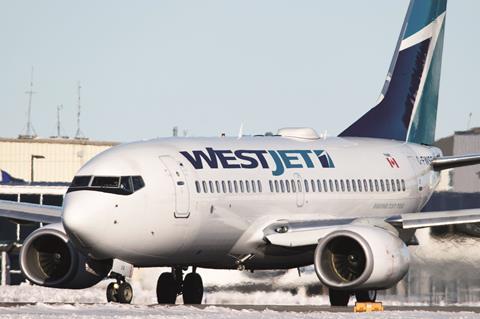 The expansion is part of a broader strategy shift, launched last year, that has WestJet re-focusing in western Canada.
The airline is launching 20 new routes and three new destinations during the upcoming northern hemisphere summer travel season. New nonstop service will be available to Washington's Dulles International airport, Detroit and Minneapolis, Minnesota. The carrier has also added new flights to Atlanta, Austin, Chicago, Nashville and Seattle.
Additionally, it will launch new routes from Alberta's capital Edmonton to the eastern Canadian cities of London (Ontario), Moncton, Charlottetown, Ottawa and Montreal, to flights to Nanaimo and Penticton, both in western Canada.
The new flights will begin operating between 30 April and 30 June.
In December, WestJet, the second-largest Canadian airline, said it would also launch flights from Calgary to Tokyo's Narita airport, marking its first destination in Asia. WestJet is also adding new flights to Barcelona and Edinburgh as part of a wider expansion of its long-haul network from Calgary.