Wizz Air is taking advantage of the opportunities created by the coronavirus crisis by expanding its footprint across eastern and central Europe with new bases and routes.
"This is our time," stated the budget operator's chief executive Jozsef Varadi during an earnings call on 29 July, in which he again highlighted the carrier's strong cash position. "This is the time that sorts winners from losers. We need to maximise our advantage coming out of this situation.
"Really the objective here is to structurally take advantage of the pandemic situation and deliver long-term competitive advantages through the network development of the airline."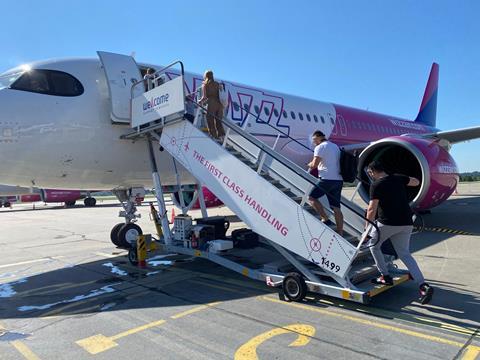 In recent weeks, Wizz Air has re-allocated 22 aircraft across its network and launched more than 200 new routes. Bases have been added in Albania, Cyprus, Italy and Ukraine, as well as Germany, Romania and Russia.
At the same time, it has ramped-up operations at a pace ahead of most rivals, operating 70% of its capacity year-on-year during June, compared with an industry average, it suggests, of less than 40%.
"We have been waiting for this moment for 10 years," Varadi continues. "Last time around, with the economic crisis in 2008-2009, we didn't have the capacity, we didn't have the scale to fully benefit from those circumstances."
Opportunities are being created by "more effective commercial propositions" being available from airports, he notes, compared to what was seen "even a few months ago".
"We are making long-term decisions here," Varadi states. "Some of these opportunities have been surfaced before but we couldn't accommodate them from a commercial standpoint. I think the circumstances have changed and commercial terms have changed."
The carrier's expanded footprint has so far not been at the expense of existing bases and routes, Varadi explains.
"We haven't closed a single base," he says, adding that the expansion has been achieved amid a "trimming" of frequencies on the carrier's existing network, as overall demand remains depressed.
For its first quarter ending 30 June, Wizz Air reported an underlying net loss of €57 million ($67 million), versus a profit of €72.4 million in the same period last year.
It carried around 700,000 passengers during the three months, compared with more than 10 million in the same quarter of 2019.
Revenue fell by 87% to €90.8 million, and it achieved a load factor of 55.5%, down from 93.7% year on year. The company's total cash balance stood at €1.6 billion at the end of the quarter.
Speaking during an FIA Connect event on 22 July, Varadi stated that liquidity has been a key factor in the carrier's ability to weather the crisis and emerge at a faster pace than many of its rivals. The carrier is also pushing ahead with plans to launch Wizz Air Abu Dhabi in October.