While Wizz Air plans to increase its capacity 30% this summer, the airline's chief executive Jozsef Varadi believe this represents a safe way of growing, given expansion is weighted on adding frequencies and has a focus on maturing markets.
The budget carrier was notably aggressive in adding capacity and expanding into new markets during the pandemic, and that investment, together with operational challenges which have hit its aircraft utilisation rates, have been factors in what Varadi terms a "transitional" year for the airline. Wizz is set to post a third consecutive loss for the year ending in March.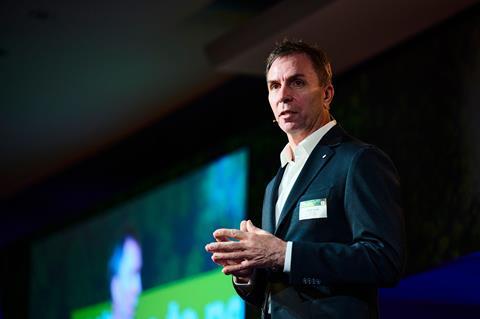 However, after the eye-catching expansion moves, which helped boost its market share, Varadi believes a maturing of these route investments helps to de-risk its growth plans for the financial year to come – a year in which Wizz expects to return to profit and pre-pandemic operational performance levels.
"If you look at the way we are delivering growth in fiscal [year 2024], this is a very safe way of growing the business," Varadi said, speaking on a third quarter results call today.
"Most of the growth, roughly 80%, will come through increasing frequencies on existing routes, 16% comes from joining existing airports. So essentially 95% of the growth coming from the existing network, routes and airports."
Varadi also points to the large amount of growth for the coming year which is focused on newly established markets, almost half of which covers Italy and Abu Dhabi alone.
"We decided to invest into Abu Dhabi, into Albania, into London Gatwick, into Italy, and that all happened during the Covid times," he says. "All those investments are maturing. You can't expect structural load factor performance to fall out of those investments from day one. It takes some time. Not a long time, but maybe two-three years."
He notes almost a quarter of Wizz's network is focused on these markets, while a further portion of capacity had to be redeployed from Russia and Ukraine last year into new markets
"So we have about a third of our capacity maturing – this is the underlying cause of the drop-off load factor," he says. The airline reported a 10-point improvement in third-quarter load factor for the three months ending December 2022, to 87%. That, however, is still around five points down on the same period before the pandemic, a level of which Wizz aims to reach in the next financial year.
"Next year we are getting into the period where you should be expecting significant maturity happening and a significant effect on load factor. That is really what is driving up the load factor performance," Varadi explains.
He adds: "The growth we are intending to deliver will be deployed in the safest way possible, putting it on existing routes and existing airports as opposed to adventuring to new markets and airports. So we are de-risking that growth substantially by the way we are deploying that growth."
The airline is now operating eight aircraft, with a spare, on its Abu Dhabi operation, the joint-venture carrier it launched in early 2021.
"We are looking at doubling down in Abu Dhabi," says Varadi. "So we are looking at doubling the fleet size in the next 15 months. Abu Dhabi has been a very strong story with strong results coming through and that is encouraging us to invest further in that market."
He is similarly encouraged by progress in the Italian market, even with the potential for stronger competition from local operator ITA Airways, if it becomes part of the Lufthansa Group.
"If you look at Italian market capacity, it is still down versus pre-pandemic levels after our investment, so there has been significant consolidation in the market place," Varadi says. "I think that created the demand but structurally we took advantage of Covid times to strike long-term cost arrangements [at airports].
"We feel comfortable with regard to our setting in Italy… both on the cost and revenue side of the business and we continue to grow our activity."
While Wizz will next month close its two-aircraft base at Bari, it is basing four more aircraft at Rome and another in Milan. "We have done some consolidation in Italy in terms of phasing smaller base operations and reinforcing growth at larger airports like Rome and Milan where we have had a strong reaction."
Notably this is not the only base Wizz has shelved. It this month shut its Cardiff base, having last year stopped operating at another UK airport, Doncaster Sheffield, while its one-aircraft base at Bacua will close next month.
"There is a cost in opening and closing a base," acknowledges Wizz Air president Robert Carety. "But the benefit of optimising that [network] and finding the right cost structure, so you generate the right yields and load factor, far outweigh the cost of that."