Wizz Air chief executive Jozsef Varadi believes the airline's network diversification in recent months will help the low-cost carrier better ride out the coming months of the coronavirus crisis.
The central European budget carrier has established a number of new small operating bases across Europe since the pandemic, making it one of the most active players since travel restrictions began being lifted within Europe.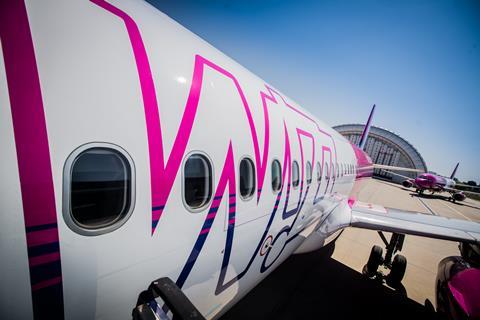 Wizz had caught the eye with its bullish outlook, and it had hoped to be operating up to 80% of its planned capacity in the last quarter of this calendar year. But it has been forced to scale that back amid a series of fresh travel restrictions across Europe. Notably, that includes its home country, Hungary.
"We are not immune from the situation and we are similarly impacted by – not the pandemic itself – but the economic impact and the political agendas," explained Varadi, speaking during a Eurocontrol-organised webinar interview today. "I think this whole pandemic management has become a very complex animal because it is much more than managing the… virus itself.
"We have been trying to stay as agile as we could have been. We looked at demand and continued to adjust capacity depending on demand. We were trying to be rational and align capacity to the new customer realities."
Varadi notes Wizz has opened 10 new operating bases over the past five to six months. That includes operations in the UK at London Gatwick and Doncaster Sheffield, as well as Milan Malpensa and St Petersburg.
"I think we are benefiting from the level of diversification we have achieved. We are operating from 45 countries, with more than 30 operating bases in 20 countries," he says.
He notes that gives the carrier an advantage over those operating in a single market. "Because if something goes wrong in that one market, it basically jeopardises the whole company," Varadi says.
"What we have been experiencing over the last few months is that some markets under-perform, but we had offsetting markets that were doing better than average. So we have been able to benefit from that level of diversification.
"But we are at the mercy of governments and events" he adds. "Every country has gone its own way and it's really a zoo. Forty-five countries we are operating to and we don't find two countries that are applying the same measures, so I think that's a shame. And now we are in the second wave of restrictions, and still we are learning nothing from the lessons in the first period. It is a very inefficient way of managing this crisis."
Varadi continues: "As an airline, we have learnt you have to be very agile. You are basically running the business on a day-by-day basis and as the circumstances change, you have to change with the circumstances.
"I don't think there is V-shaped or U-shaped recovery – I think its going to be like a roller-coaster going up and down for some time."
But he adds the airline is still keeping an eye on the post-pandemic environment and the opportunities this will present.
"We are one of the very few airlines in the world that has been taking new aircraft deliveries – almost all other airlines have deferred aircraft orders or cancelled aircraft orders, but we have continued our aircraft delivery programme."
He argues this will will give Wizz a competitive edge over rivals, in terms of costs and the tackling of aviation's environmental impact. "So we are trying to also get a long-term sustainable competitive advantage for the business," Varadi says.