American Airlines says it has come to a confidential agreement with Boeing to compensate it for the losses it incurred due to the grounding of the 737 Max following two fatal accidents, and that it will be sharing the compensation with its employees.
In October, the Fort-Worth-based airline's chief executive Doug Parker said the grounding of the fleet of 24 Max aircraft had cost it up to $540 million in pre-tax profit in 2019 and forced it to cancel thousands of flights. American still has 76 Max aircraft on order.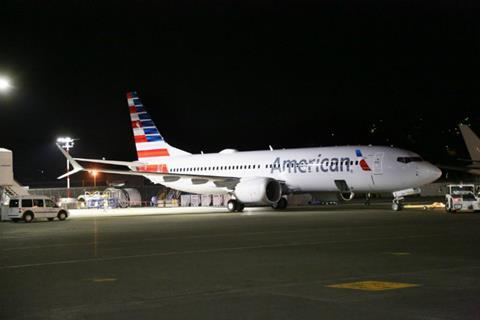 "Our ability as an airline to weather these unprecedented times is thanks to our phenomenal team, and it was important to us that we get a deal done this year," Parker says in a statement published on 6 January. "On behalf of the board of directors, we are proud to take the step of including this compensation in our 2019 profit-sharing programme, even though the compensation will be received over several years."
Earlier in the day, Aeromexico also announced a confidential agreement with the Chicago-based planemaker for damages associated with the grounding, which is now in its 10th month. Turkish Airlines and Southwest also announced agreements with Boeing recently.
American adds that the company's board has authorised a discretionary portion of the settlement to be returned to employees as part of the 2019 profit sharing programme. "The profit-sharing award is based on the company's estimate of projected full-year 2019 financial damages for the MAX groundings. An additional accrual of more than $30 million will be made to the airline's 2019 profit-sharing programme, which is expected to be distributed to American's team members in March 2020."
The prospects for returning the 737 Max to service remain bleak, as the Federal Aviation Administration continues to scrutinise the programme. The regulatory body has not indicated when it could re-certificate the aircraft, repeatedly saying that it would not do so until it determines that it is safe. It has been grounded since March 2019 after the second of two fatal accidents which killed a total of 346 passengers and crew.
American Airlines has taken the plane out of its schedule through 6 April. Boeing stopped production of the jet in January 2020 pending further clarity on its future.