One thing airline executives have learnt over the years is that charging passengers for something they used to get for free never comes without a cost of some kind.
The scale of that cost usually depends on the how the policy change is handled, the market the carrier operates in and the values attached to the brand. Some markets, particularly low-cost, are more forgiving than others.
In most cases a round of negative headlines and backlash on social media will ultimately be outweighed by the longer-term financial upside of the policy change to the business.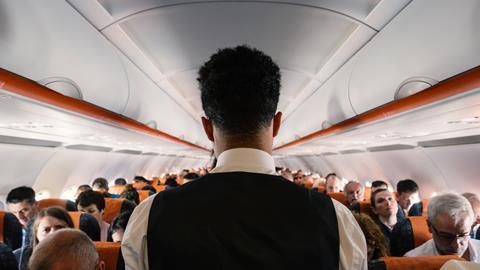 In some cases – such as Ryanair's drive many years ago to disincentivise passengers from travelling with checked-in bags by steadily increasing the cost to do so – the headlines are embraced to cement the desired behavioural change. Outrage around the cost of checking bags merely supported the carrier's ambition to reduce the level of checked-in bags handled, and thus its ultimate aim of reducing airport charges.
EasyJet is that latest carrier to tackle passenger expectations by beginning to charge passengers to check in overhead bags. Under the new policy. passengers will from 10 February be restricted to taking on board a single small piece of luggage that can fit under the seat in front, unless they have paid for one of its premium up-front or extra legroom seats, or booked a flexi-fare ticket.
"We're making some changes to our cabin bag policy to help improve boarding and punctuality and give customers certainty of what they are allowed to bring on board," the airline says.
That a challenge exists will come as no surprise to regular travellers on full short-haul flights across Europe, used to the sights and sounds of passengers and crew trying to eke out every last bit space in the overhead bins.
Neither is the move unique. Ryanair reversed its stick and carrot routine two years ago, to restrict its passengers to a single small cabin bag, citing similar aims of eliminating boarding delays.
But the timing of the EasyJet move – aside from full load factors being a problem airlines can only really dream of right now – is interesting because it begs the question of whether passengers should fundamentally expect to pay more for what they have been getting from airlines today.
Last month Lufthansa, Swiss and Austrian Airlines revealed they will switch to a buy-on-board meal service for economy passengers on short- and medium-haul flights next year. Again, the network operators are far from the first to do so. A similar move by British Airways plagued the headlines for Alex Cruz in his first years in charge of the airline. But the decision to bite the bullet at this point may not be coincidental.
Airlines – regardless of their model or health going into this pandemic – are staring at record losses as a result of the grounding and uncertain recovery. They all now have higher levels of debts to service – IATA estimates airline debt across the industry has gone up 50% this year. This needs paying down.
Yet at the time airlines need to boost their revenues, they must also nurse a wary public back to travelling with the gusto they had a year ago. Competition is likely to be intense for what traffic there is. Price, especially for short-haul travel, remains an airline's key method to stimulate the market.
In that environment, especially in ultra-competitive markets – and few have been as competitive as European short-haul – further product commoditisation and unbundling may be one of the few ways airlines have to recover revenue. Potentially unpopular decisions they may have been mulling pre-crisis may seem more palatable amid new financial realities.
In a post-pandemic world where the cost of living is likely to get higher for everyone, why should air travel be any different?