Boeing needs to work to resolve the current tariff war with Airbus as the dispute threatens to further erode its market share versus its European competitor, Air Lease executive chairman Steven Udvar-Hazy has argued.
During the Airline Economics Virtual Growth Frontiers Dublin event on 18 January, Udvar-Hazy said the US manufacturer risked losing more sales in Europe as a result of US tariffs than Airbus faced losing from US tariffs, owing to its US production facilities which allow it to sidestep the sanctions.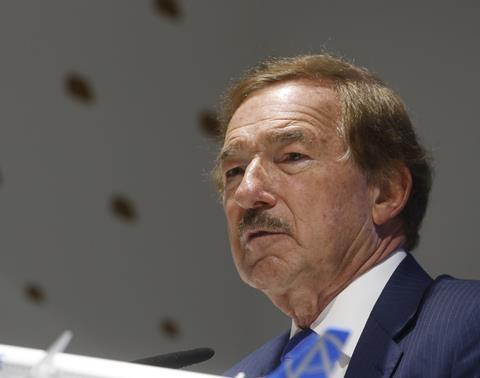 "The tariffs mean that an Airbus aircraft for a European airline is much more attractive financially than a Boeing aircraft. No airline in Europe is going to want to pay a 15% tariff – it's almost like a 15% price increase," says Udvar-Hazy.
"So Boeing and the US administration will have to come to grips with this, because a tariff imposed by the Europeans is much worse on the [Boeing] 737 than the US tariff on the Airbus, since most of the Airbus US domestic airplanes are manufactured in Alabama, not in Europe."
Both the US government and the EU have been granted authorisation to impose tariff-based countermeasures – respectively for $7.5 billion and $4 billion – by the World Trade Organization in a recent heating-up of a long-running dispute.
Tariffs of 15% on both Airbus and Boeing aircraft have been imposed.
Udvar-Hazy characterises the measures as a "new twist" in the rivalry between the two aircraft manufacturers to dominate the market, a race which Airbus had been winning "long before" the pandemic began.
He points out that between 2010 and 2019 the number of airline operators Airbus added through A321ceo and Neo sales was "significantly higher" than those achieved in the same period by Boeing with its 737-700 and -800 models.
"So even if we look before the Neo and the Max we see that Airbus was gaining market share," he says.
Airport slot restrictions proved to be to the advantage of Airbus's A321, which gained "a lot of popularity", while Boeing did not have a direct competitor, with the closest rival being the 737-900ER, which was mainly confined to US domestic carriers, he notes.
The European OEM is also well placed to increase its advantage as the market recovers.
Airbus will in 2022 increase production of the A320neo and A321neo from four production lines in Tianjin, Mobile, Hamburg and Toulouse, while Boeing only has the single facility for narrowbodies, in Renton.
From the perspective of Air Lease, the next 90 days are going to be critical for the success of the 737 Max programme.
While the aircraft has now been recertificated by regulatory authorities in the USA, Brazil and Mexico, it has met "limited success" elsewhere, says Udvar-Hazy, and Air Lease will not commit to a final orderbook until more clarity is achieved.
"Not yet having EASA certification, not having Chinese certification, not having Canadian certification, not having Russian certification, it's very hard for us to make commitments to Boeing on whether we can reactivate any of these so-called whitetails," says Udvar-Hazy.
"Once we have EASA certification hopefully in the next 30 to 35 days, Canada hopefully by the end of January and get a couple of aircraft delivered in last week of January."
He sees a "big question mark" around Chinese certification of the Max, and believes the issue could become "a political volleyball game" once the Biden administration takes office.
"Basically [we're] in a holding pattern and once we come out of that holding pattern we will have a better visibility on which airlines are going to be loyal to the 737-8s and -9s and which airlines are maybe going to go in a different direction."
Air Lease's original fleet plan called for 200 Max aircraft, mostly -8s and -9s, but the lessor is re-evaluating this figure.
"I think by this summer by June or July we should have a much better handle on exactly how many Max 737s Air Lease is going to have in its fleet, but it's certainly not going to be 200. It's going to be a lesser number based on everything we can see," adds Udvar-Hazy.