Boeing's aircraft deliveries and new orders continued to climb in June, reflecting what the company describes as airlines positioning themselves for recovery from the pandemic-driven downturn.
In June, the Chicago airframer logged 219 new orders and delivered 45 jets – recent highs for both those figures.
Still, Boeing's customers cancelled orders for 73 aircraft during June, and Boeing removed another 56 aircraft from its backlog due to uncertainty about the likelihood that those sales will actually close.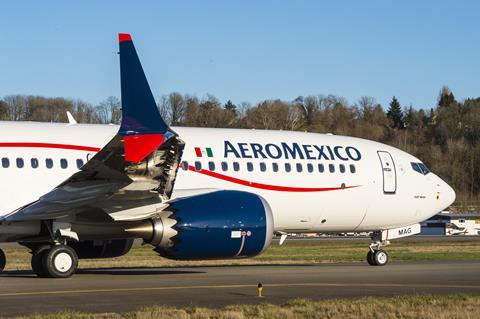 Boeing's 219 orders in June included 200 737 Max ordered by United Airlines and 19 widebodies ordered by FedEx, comprising 18 767 Freighters and one 777F, Boeing says. The company has not landed so many new orders in a single month since June 2018, it says.
The orders were offset by the 73 cancellations. Those included 65 737 Max nixed by Flydubai, five 737 Max scrubbed by lessor BOC Aviation, one 737 Max Boeing Business Jet cancelled by an unnamed customer and two 737-700-based "Wedgetail" military jets cancelled by an unnamed defence customer. Wedgetails are airborne early warning and control aircraft.
The cancellations left Boeing's net new orders for June at 146 aircraft, marking the fifth straight month when Boeing's orders have outnumbered cancellations.
"We continue the work to deliver on our commitments to our commercial, defence, space and services customers, while positioning our business for a stable and strong recovery from the pandemic," Boeing says. "In the second quarter, we made progress in safely returning the 737 Max to service in more international markets and increasing the pace of 737 deliveries."
In addition, Boeing removed another 56 jets from its backlog, placing them in its "ASC-606" accounting bucket. That bucket houses orders that remain under sales contracts but that Boeing suspects will not close due to reasons including the financial condition of buyers. Those 56 jets included 49 737s and seven 787s.
Boeing delivered 45 aircraft in June, more than in any month since March 2019. Those included two 737NG-based P-8 military surveillance jets and 33 737 Max, which went to customers including 777 Partners, Aeromexico, Air Lease, Alaska Airlines, Flydubai, ICBC Leasing, Jackson Square Aviation, Ryanair, Southwest Airlines, TUI Travel and Turkish Airlines.
The June deliveries also included 10 widebodies, among them one 787-9 to Turkish Airlines, two 767-based KC-46 tankers (one to the US Air Force and one to Japan's tanker programme), two 767Fs to FedEx, one 777F to FedEx, one 777F to DHL, one 777-200LR to Turkmenistan for Turkmenistan Airways, and two 777Fs to Qatar Airways.
Excepting the Turkish 787 aircraft, Boeing has stopped 787 deliveries due to manufacturing problems. Boeing was able to deliver the Turkish jet because that aircraft had been certificated before recent manufacturing problems, the company says.
The June activity brings Boeing's backlog to 4,166 aircraft, up from 4,121 at the end of May. The backlog includes 3,334 737s, 11 747s, 107 767s, 286 777s and 428 787s.
In the first half of 2021, Boeing landed orders for 599 jets, offset by 356 cancellations, bringing its net new orders for the six-month period to 243.
Boeing's backlog activity in 2021 through June
Type
Deliveries
Orders
Cancellations
Backlog
737
113
516
328
3,334
747
2
5
3
11
767
13
45
107
777
14
24
286
787
14
9
25
428
Total
156
599
356
4,166
Source: Boeing