Airbus should consider holding monthly A320-family production output at 40 aircraft rather than increasing its throughout this year, lessor Avolon's chief executive opines.
"It's going to take the supply-demand dynamic for aircraft several years to get back into equilibrium. Even though the demand for people to get on aircraft kicks off in the second half of the year, there is a lag factor," said Domhnal Slattery in a 22 January interview with Bloomberg TV.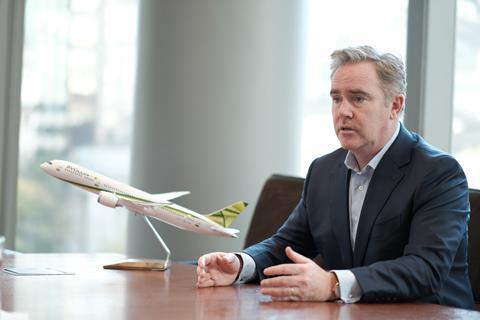 Earlier that day, Airbus said it is still intending to increase monthly A320 production, but at a slower rate than 47 aircraft originally expected. Instead, it will raise A320-family monthly output from the current 40 aircraft to 43 in the third quarter, and 45 in the fourth.
"I think that's good," said Slattery. "I would encourage them to even taper it back to the current levels of 40."
He added: "We've communicated this very clearly to both Airbus and Boeing – and the engine manufacturers because it's an entire food chain – they should be in no rush to pick up production levels."
Despite the call for reduced aircraft output, Slattery believes that vaccine rollouts could lead to a faster airline industry recovery than he previously expected.
"The baseline for the industry, which has been effectively outlined by IATA, is a full recovery by 2024, and we felt comfortable with that as a forecast up to a couple of months ago," he said.
"But with the advent of the vaccine, even given the current lockdown scenarios, we think that recovery could accelerate. We're thinking now 2021 as like 2020 in reverse."
He says this would not be a "V-shaped" recovery but rather a "steady recovery" that could start in the second half of 2021.
European travellers, however, may still not be able to enjoy their summer holidays to the fullest.
"I think summer 2021 in Europe is uncertain and it's ultimately driven by the pace of the rollout in Europe. My gut feeling is it that it won't be a busy summer on the airline side," Slattery said.
May, June and "up until mid-July" will not be busy, he said, adding that the latter parts of the summer could see an uptick in traffic as the vaccine rollout continues.
"The pent-up demand globally for people who want to get on aircraft to see friends and family, to take a break just to get away from the humdrum of Zoom calls is enormous and, of course, people have been saving a lot of money and so there is plenty of disposable income to buy airline tickets, to go to that hotel destination you always wanted to go to," he said.
He adds: "So I think when people can they are going to get on those airplanes in droves."