Restructured low-cost carrier Norwegian has firmed its deal for 50 Boeing 737 Max 8, which are due to join the fleet between 2025 and 2028.
The airline at the end of May announced it had a struck preliminary deal for the aircraft, which include 30 options in addition to 50 on firm order.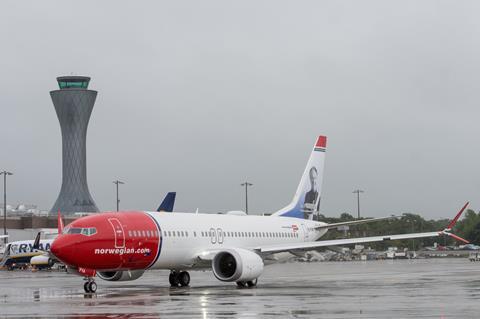 Norwegian will predominately use the aircraft to replace existing jets as current lease deals expire, though the order will mean a "limited net increase" in its current fleet.
Norwegian says a "significant share" of the aircraft will be owned by the company, ensuring an optimised and balanced aircraft-financing structure.
The airline was an early Max customer and flew 18 of the jets prior to the type's grounding in 2019. However, during a major restructuring, Norwegian scaled its fleet back to just Boeing 737-800s and scrapped an order for 92 more Max jets.
Since completing its restructuring, and with the lifting of Covid-19 travel restrictions, Norwegian has been rebuilding its fleet. The airline still mostly operates 737-800s but recently started adding back some 737 Max and a small number of Airbus A320s.