A breakdown of all the commercial airline orders and commitments announced at the Dubai air show
After home carriers Emirates and Flydubai led a bumper first day of business at the Dubai air show with deals for Boeing 777X and 787s, widebodies accounted for almost half the firm orders and commitments placed during the show.
Emirates closed the show with an order for 15 Airbus A350-900 meaning there have been 195 widebody commitments announced in Dubai. All but 15 of these are firm orders.
They accounts for almost half the 403 orders, options and purchase rights disclosed.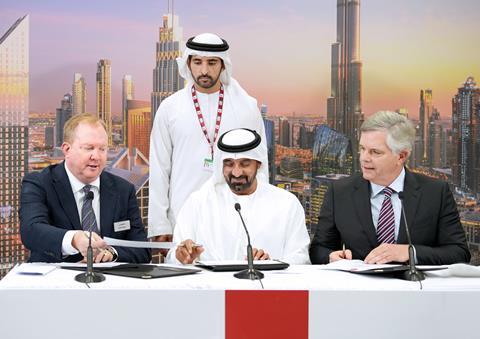 The majority, 174 units, of the widebody business was secured by Boeing.
In addition to the 90 777-8s and -9s ordered by Emirates – as well as five more 787s – and 30 Dreamliners by Flydubai, Boeing obtained widebody business from Ethiopian, Royal Jordanian and Royal Air Maroc.
Ethiopian committed to up to 26 787-9s, while Royal Jordanian and Royal Air Maroc committed to six and two more Dreamliners respectively.
Dubai air show 2023 order announcements by market segment
Aircraft type
Firm orders
Options
Total
Source: FlightGlobal analysis: firm orders include MoUs; options include purchase rights
Narrowbodies
102
86
188
Widebodies
180
15
195
Regional
10
10
20
Total
292
111
403
EgyptAir has provided Airbus with its other widebody deal, signing for 10 A350-900s, while Ethiopian also signed an MoU for 11 A350-900s.
Airbus business at Dubai also includes 30 firm orders and 20 more purchase rights from Latvian carrier Air Baltic for A220 narrowbodies.
Boeing secured 138 Max commitments at the show, just over half of which are firm deals. That includes a follow-on order from SunExpress for 45 firm and 45 options for 737 Max 8s and Max 10s. Ethiopian – withits first Max order since a fatal crash with the type four years ago – and Kazakhstan's SCAT Airlines were the other Boeing narrowbody customers.
On the regional side, ATR secured a follow-on order from lessor Abelo for 10 firm ATR 72-600s and 10 options.
Dubai air show 2023 Order Tracker
Customer
Manufacturer
Aircraft type
Firm orders
Options
Total
Notes
Source: FlightGlobal analysis of show announcements; Firm orders include MoUs; Options include purchase rights;
Emirates
Boeing
777-8/9
90
90
55 x -9s, 35 x -8s
SunExpress
Boeing
737 Max
45
45
90
28 x Max 8, 17 x Max 10
Flydubai
Boeing
787-9
30
30
Air Baltic
Airbus
A220-300
30
20
50
Ethiopian Airlines
Boeing
737-8
20
21
41
Ethiopian Airlines
Boeing
787-9
11
15
26
Emirates
Airbus
A350-900
15
15
Ethiopian Airlines
Airbus
A350-900
11
11
MoU
EgyptAir
Airbus
A350-900
10
10
SCAT Airlines
Boeing
737-8
7
7
previously undisclosed in Boeing backlog
Royal Jordanian
Boeing
787-9
6
6
4 x new, 2 x reinstated orders
Emirates
Boeing
787
5
5
Royal Air Maroc
Boeing
787-9
2
2
previously undisclosed in Boeing backlog
Abelo
ATR
ATR 72-600
10
10
20
to be finalised by year-end
TOTAL
292
111
403
The strong order activity marked the busiest Dubai air show since 2017. That year there were 874 orders and commitments announced, bolstered by large Boeing Max and Airbus neo narrowbody deals from Flydubai and Indigo Partners respectively.
Order activity was also shy of 2013, which notably included 623 commitments on the first day - including from Emirates, Etihad Airways and Qatar Airways – when Boeing formally launched the 777X.
Article updated on 17 November to include Emirates A350-900 order